Abu Dhabi T10 league is set to begin from 28th of January, 2021, and will continue up till 6th of Feb. There will be 8 teams participating in the competition and one of them is the Deccan Gladiators. The Gladiators were the runners-up last time, as they were beaten by 8 wickets in the final by Maratha Arabians. However, this time around, the Deccan Gladiators T10 squad has some great players that can single-handedly win any match for the team. The franchise will be trying their best to win the competition this year since they fell one game short of winning it in the last edition.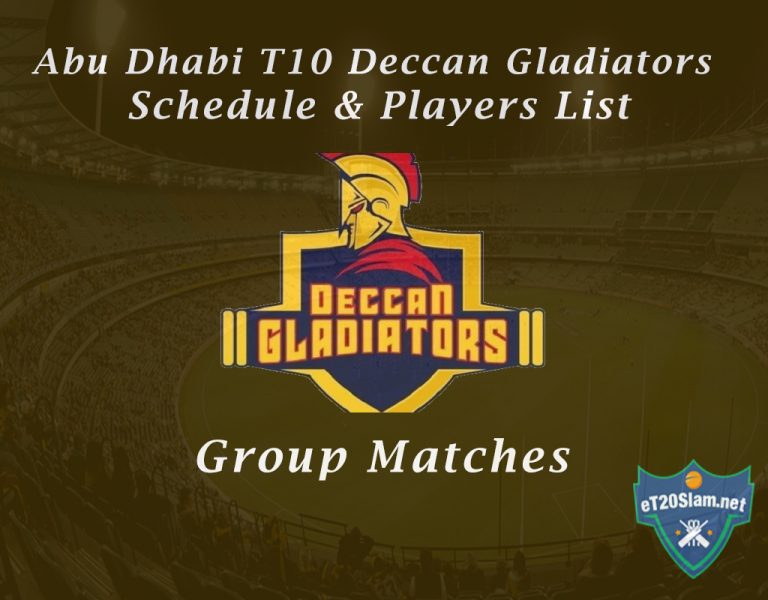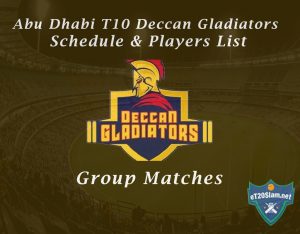 In this article, we will look at all the players Deccan Gladiators have signed for their 2021 T10 squad, and when the team will be playing its matches.
Deccan Gladiators T10 Squad 2021
Deccan Gladiator 2021 team squad has some of the best power hitters from all around the world. In a game of 10 overs, you need as much score as possible, and you need some firepower in your batting lineup, and Deccan Gladiators have exactly that.
Talking about the icon, Sunil Narine, the West Indian spinner has got the honor of becoming the icon of the team. Whereas, Kieron Pollard, the powerful West Indian batsman, who can absolutely destroy any bowling line-up, is the captain of the Deccan Gladiators squad.
Bhanuka Rajapaksa, the left arm Sri Lankan batsman also makes it to the Deccan Gladiators T10 squad for the 2021 Abu Dhabi T10 League.
Zahoor Khan, the United Arab Emirates cricketer will also be representing Deccan Gladiators T10 squad in the upcoming tournament.
Colin Ingram, the aggressive South African batsman has also been picked up by Deccan Gladiators. A great batsman who has the potential of winning games on his own, when it's his day.
And last but not the least, the man who does not need any introduction, Mohammad Shehzad from Afghanistan will be representing the Deccan Gladiators in the 2021 T10 league as well. The wicket-keeper batsman from Afghanistan can take any bowler in the world to the cleaners, doesn't matter it's Dale Steyn or anyone else.
Abu Dhabi T10 Deccan Gladiators Players List
Deccan Gladiators T10 League Schedule
The matches will be officially starting from the 28th of January, 2021. If you are wondering when do Deccan Gladiators play their first match, then you can check out the complete team schedule below to help yourself.
Here are all the Deccan Gladiators fixtures for 2021. You can also download the Deccan gladiators 2021 schedule to keep yourself up-to-date with all the fixtures.
Deccan Gladiators Schedule/Fixtures Download
You can get the complete schedule of Deccan Gladiators fixtures 2021 from Abu Dhabi T10's official website. If you don't want to do that, then download the Deccan Gladiators schedule 2021 from below.