Pakistan super league is the premium T20 competition for a passionate cricket nation of Pakistan which happens each year and six teams compete against each other in a very exciting T20 format that everyone loves. PCB has announced the complete PSL 2021 schedule and time and it's now official that the whole league will be played in the country. Pakistan Super League from 1st edition was very interested to bring International cricket back to Pakistan after a sad incident took place a decade ago where the Sri Lankan cricket team was attacked and ICC restricted Pakistan to host International games at home. PSL is the nation's heartbeat which has paved the way for International Cricket back home after very successful 5 years of competitive T20 cricket. A lot of well-known T20 superstars want to be part of PSL because of good amount of money and highly professional management which runs PSL.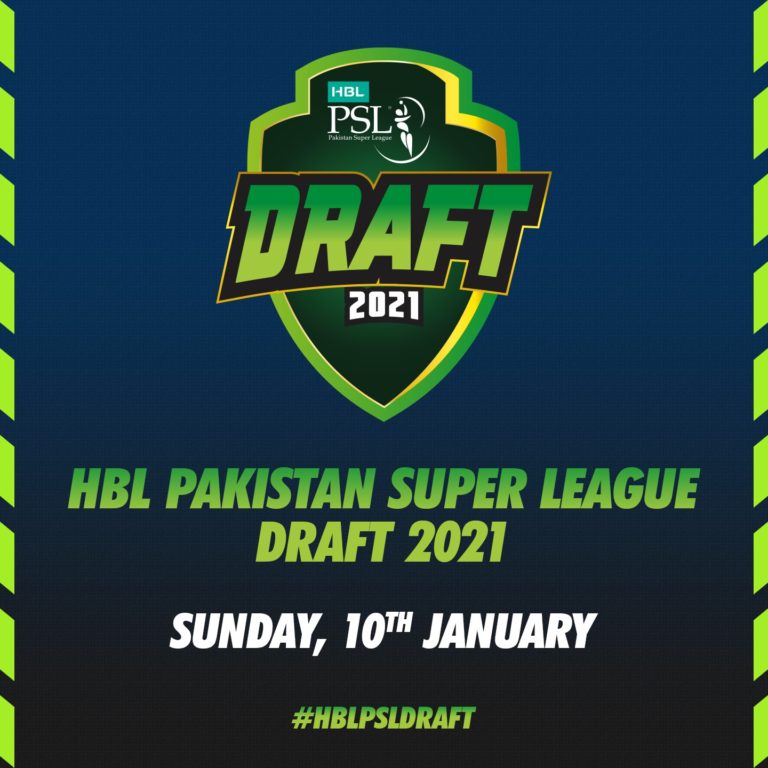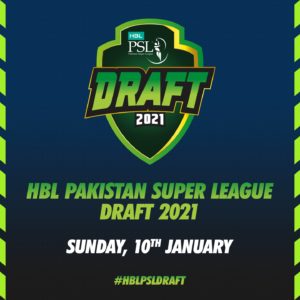 The last edition, Pakistan cricket board was able to host the last eight games out of 35 matches back in Pakistan last year in the fourth edition of Pakistan Super League where Quetta Gladiators won the trophy in the historic final with a full packed crowd. This year, PCB announced that they are going to host all matches of PSL 6th edition back in Pakistan and four cities which are chosen for the honor of hosting PSL matches are Karachi, Lahore, Rawalpindi, and Multan. All these cities have fantastic cricket grounds available as well as all International facilities as per ICC rules and regulations. The complete PSL teams squad 2021 was finalized in the draft ceremony.
Pakistan Super League is known to have a very huge viewership all around the world as well as in India, Bangladesh and all across Africa and Europe. Millions of cricket fans always stay online and watch it live on Youtube through cricket gateway all across the world just on online portal access. It's expected since the fifth edition of the league is going to be held in Pakistan completely we will see huge crowds build up at every venue and certainly all franchises will enjoy the hype and fans support which push a sportsman to give his 110% every time he sees the great crowd build-up and it is also the big opportunity for the young players to perform well and pave their way for the national side.
PSL 2021 Draft Picks Order
PSL Management has just announced the pick order for the draft of PSL 2021. Islamabad United has got the first pick in the draft because they were the last team in the points table at the group stage.  Multan Sultans will have the 2nd Pick in the Platinum round in PSL 2021 Draft.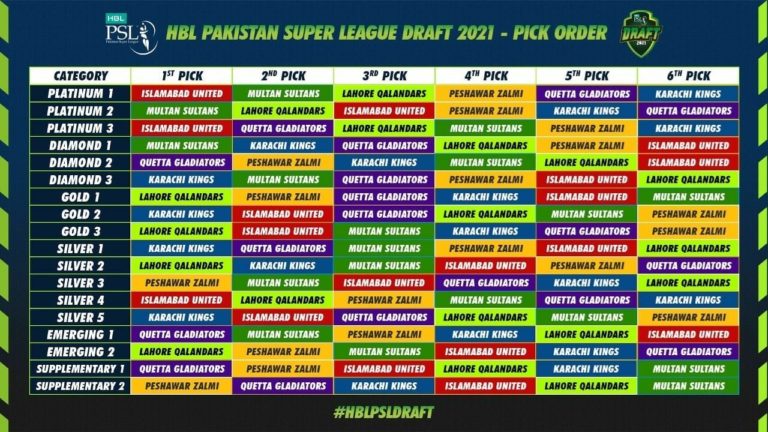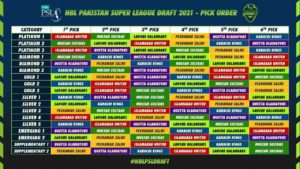 There will be a total of 18 picks each franchise will do in the Pakistan Super League 2021 Draft which will happen on the 10th of January in 2021. The fifth edition will be played in Pakistan from 20th February to 22nd March 2021 next year.
PSL Local Categories Renewed
The management of the Pakistan Super League has released the local category of players under new rules compiled for the fifth edition of the league and players are divided into five different categories namely Platinum, Diamond, Gold, Silver, and emerging. Teams still have the right for the relegation requests with player consent before the finalization of names for the PSL 2021 draft.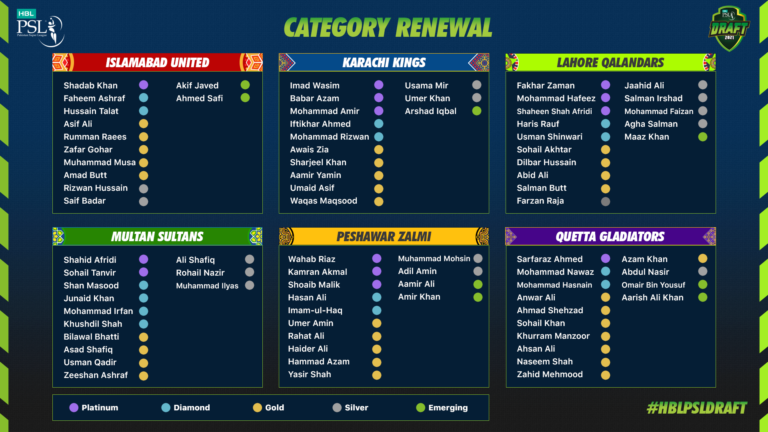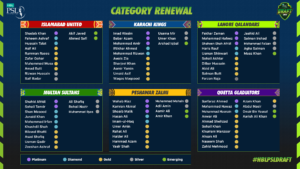 The diamond Category players also earn the top dollar and PCB has announced 10 players from Pakistan who are playing International Cricket in this category where each franchise will choose which one to pick and which to retain.
After, the top tier picks we move forward towards the Gold Category with a base price tag of $50,000 and maximum price of $70,000 and there are 23 exciting players from Pakistan who will feature in this category for Pakistan Super League draft 2021 where all six franchises will decide which player to retain and which ones to pick from local category.
The silver category is the medium-priced picks with a base price of $25,000 per player which can go at a maximum price tag of $50,000. The price will be decided by the franchise and the player itself under the given minimum and maximum criteria.
PSL is all about helping Pakistan Cricket to find some hidden gems who can represent for the national side in future and in the emerging category each year we see some very exciting prospects from Pakistan who showcase their talent at the big stage and have the opportunity to impress selectors and have a large fanbase. Each franchise can pick 2 emerging players with a price tag of $12,000 to $13,000 respectively.
PSL 2021 Draft Retentions
The management of the Pakistan Super League has revealed that all six franchises have the option to do maximum 8 retentions while keeping the squad of 18 members. Every franchise needs to pick at least 3 Platinum, 3 Diamond, 3 Gold, 5 Silver and 2 Emerging category of players. Franchises can also pick 2 players in the supplementary category of players. All local players who have their contracts refreshed have three options which are either to be retained by the franchise or they can relegate or they move back to the draft pool where any franchise can pick them once they have the call.
PSL 2021 Retained Players List
PSL 2021 draft is scheduled to be taken place on the 10th of January 2021 and PSL management has already started announcing the list of PSL 2021 retained players PSL 2021 teams transfers. So far, four franchises have released information about the PSL 2021 teams retained players and there are more to come. PSL is going to be the biggest cricketing event in Pakistan for the last 10 years as this time the whole league is scheduled to be played in Pakistan on 5 different venues all across Pakistan. Here is the list of PSL 2021 retained player list which has been officially announced.
PSL 2021 Draft New Rules
Pakistan cricket board has announced that this year all six franchises will downsize to 18 players a team instead of 21 which will result in the cutting of salaries and will help franchisees to earn profit and do breakeven of their investment. The PSL management has decided to cut down salary caps for teams to $1.1 Million Dollars. Since the PSL is going to be held in Pakistan so there was no need to carry extra players with the franchise as it was the case when the league used to be held in UAE and we believe it's a good decision by the PSL management.
Watch PSL 2021 Draft Live
The draft ceremony of PSL 2021 certainly has a lot of excitement and fans from all around the world would like to cover this event. Due to its popularity and interest,  the PSL management has decided that fans from all around the world will be able to watch the Pakistan Super League Draft 2021 through many different broadcast partners all over the world.
The draft ceremony will be LIVE on Pakistan Super League social media channels where fans from all around the world can easily watch this historic draft of PSL right with the convenience of your smartphone.
Ten Sports and PTV Sports are official broadcast partners for showing the draft ceremony in Pakistan where 197 million people living in Pakistan will surely follow the historic draft of PSL 2021. Fans from Pakistan will also enjoy the latest coverage of the draft ceremony through a leading gif based scorecard app named cricingif.
Cricket Gateway is also the broadcasting partner for the draft ceremony where fans from all around the world can watch and follow the Pakistan Super League fifth edition and every year millions of fans, especially in India and the UK, follow this competitive T20 League through cricket gateway.
Complete List of Draft Picks for PSL 2021
The draft ceremony will be held on the 10th of January 2021 and it's expected it will be held either in Lahore or in Islamabad. A lot of VVIPs including foreign coaches and top International stars as well as Pakistan cricket legends will be present at the draft ceremony and we will update the post once the official draft goes live. The tournament is scheduled to be played from February 20th to March 22nd, 2021. The PSL draft 2021 will start at 3:55 PM Pakistan Standard Time. You will find all the latest picks for the draft as it happens so make sure to check back again for all the latest draft picks and team composition for each franchise. The six teams participating in season six of the Pakistan Super League are as follows.
PSL draft live stream will be live on the 10th of January this year where all six franchises will be looking to complete their 16 member squad today at a ceremony which is right now happening at National Cricket Academy which is located in Lahore. All the coaches, team management along team owners are present at the draft ceremony where they have to make some difficult decisions to think about which player to choose and which one to leave as there are thousands of players registered for the 6th edition of Pakistan Super League 2021. You can find all the PSL draft live updates here which will be updated in real-time. The PSL 6 2021 draft date was selected as the 6th of December after a consultation between PCB, PSL management, and all the franchises. Check out all the updates about PSL draft 2021 live right here so you know the picks before anyone else.
Foreign Players PSL 2021 Draft
The media sources have been revealing that many International Cricketers from England, Australia, New Zealand, South Africa, Bangladesh, Afghanistan, and West Indies have shown their interest to be part of the Pakistan Super League held completely in Pakistan. The few top players who might be part of the PSL 2021 draft are Carlos Brathwaite, Chris Gayle, Dwayne Bravo, Chris Jordan, Alex Hales, Moeen Ali, David Malan, Colin Ingram, Sandeep Lamichhane, Mohammad Nabi, Rashid Khan, David Miller, Thisara Perera, Rilee Rossouw, Mustafizur Rahman, Rassie van der Dussen, Chris Lynn, Dale Steyn and some Sri Lankan new players who recently toured Pakistan for T20I and ODI series are also expected to be part of Pakistan Super League 2021 Draft. It is also revealed that a total of 120 foreign players will take part in the draft and all franchises will have lots of options to choose and pick the right players in the official draft event of PSL 2021.
This year Pakistan Super League has a much bigger pool for players in the diamond category as well which is very exciting for cricket fans all around the world. Now, all International Players have accepted the fact that Pakistan is completely safe to play and fans from Pakistan are eager to see them in action on home grounds.
Official Draft Ceremony of PSL 2021
The official draft for the fifth edition of the Pakistan Super League will be held in Pakistan on the 10th of January this year where hundreds of local and International stars will participate and since this time the whole league is going to be held back in Pakistan it has been decided by the PSL management that only International players who are comfortable in playing the league back home will be given a green signal and have their name finalized for the PSL 2021 draft.
All the foreign coaches and well-known Pakistan Cricket Stars will be present at the draft ceremony where each franchise will look to pick players tactically which can help the franchise to win the PSL all-important title.