Bangladesh Premier League was canceled this year due to pandemic issues and to cope with that Bangladesh Cricket Board has launched a domestic T20 competition which will be played with five teams representing different regions of Bangladesh Cricket. The Bangabandhu t20 cup 2020 date has been confirmed which is the 24th of November 2020. BCB has announced a full Bangabandhu t20 cup 2020 schedule which will be telecasted live within Bangladesh and will be played in empty stadiums.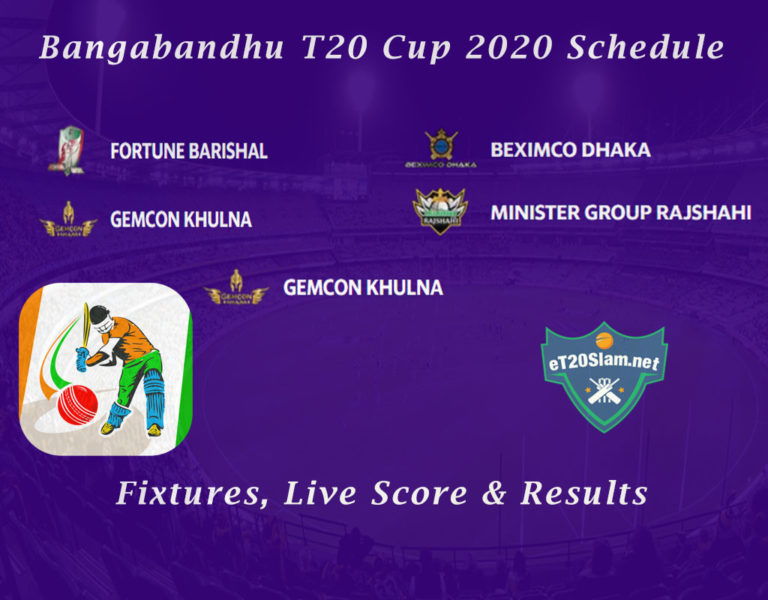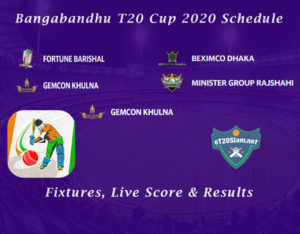 Bangabandhu T20 Cup 2020 Match Schedule
The complete Bangabandhu t20 cup schedule shows that the event will be played from 24th November to 18th December and the best part about this tournament is the legend and number one all-rounder Shakib-Al-Hasan is making a grand comeback after his suspension by the ICC. Check out the full Bangabandhu t20 cup 2020 schedule below. 
It's nice to see in the Bangabandhu t20 cup 2020 fixture that all the five teams have private sponsors which will provide an excellent opportunity for the Bangladesh Cricket Board to provide good extra benefits to the players along with helping to cope with the financial losses this pandemic started. 
Bangabandhu T20 Cup Live Score
If you are searching for ways to follow the Bangabandhu t20 cup live then the good news for you that you came to the right now. From ET20 Slam you can follow the live score card of every Bangabandhu t20 cup live match happening in Bangladesh. The event is expected to showcase the local talent of Bangladesh and with Shakib Al Hasan making a comeback to the cricket field it will be a historic moment for every passionate Bangladesh Cricket fan. To follow the Bangabandhu t20 cup live all you need to do is to click on any of the matches above and you will be directed towards a page showing live coverage of the Bangabandhu t20 cup as it happens. 
Bangabandhu T20 Cup Schedule Download
This is a big tournament for Bangladesh Cricket as it will encourage international teams to start touring the country and normal routine can begin. Our team at ET20 Slam has prepared a nice clickable PDF file that shows detailed information about the Bangabandhu t20 cup schedule with the date and timings of each match. The best part about this Bangabandhu t20 cup schedule download file is if you click on any of the matches it will lead you to the page directly having a live score card for that specific match.