Syed Mushtaq Ali trophy will be starting from 10th of January, 2021, and will continue till the 31st. Initially, it was scheduled from 19th of November to 7th of December, 2020. However, BCCI didn't approve the tournament to carry on last year, because of the covid-19 situation. Syed Mushtaq Ali trophy eventually has all the domestic teams of India participating in the competition. Karnataka is the defending champions after they won the trophy last time.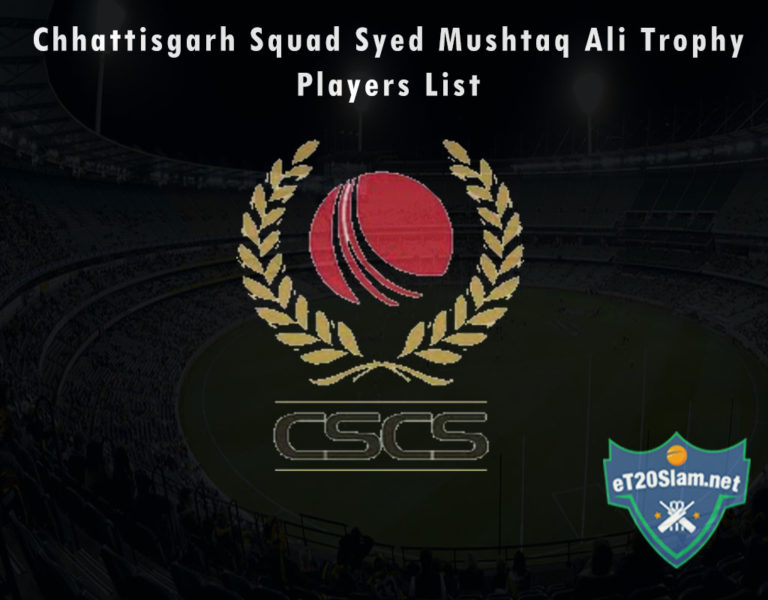 To be more precise, there are a total of 38 teams, that will be battling it out on the field. Apart from the teams, there are going to be a ton of matches as well, a hundred and two, in total. Among the participant teams, the team from Chhattisgarh is one of them.
Chhattisgarh cricket team squad is more of an underdog, but they have got the potential to make it big. Although they don't have many renowned or national cricketers playing for their side, they comprise of some good domestic cricketers. And as a result, the team will be looking at their first-ever Syed Mushtaq Ali Trophy title.
In this article, we will give you all the details about the Chhattisgarh Syed Mushtaq Ali Trophy team, along with their players' list. You can go through all the details below.
Chhattisgarh Syed Mushtaq Ali Trophy Team 2021
First and foremost, let's take a look at the group draw of Syed Mushtaq Ali Trophy team Chhattisgarh. So, Chhattisgarh finds themselves among Maharashtra, Uttarakhand, Himachal Pradesh, and the two times champions Gujarat and Baroda. So, as can be seen, Chhattisgarh will have to work hard, if they want to make it to the knockouts.
Now the Chhattisgarh Syed Mushtaq Ali Trophy team will begin their tournament journey on the very first day. On the 10th of January, 2021, they will face Himachal Pradesh in their inaugural match at F.B. Colony Ground, Vadodara.
Chhattisgarh Syed Mushtaq Ali Trophy Players List
As told above, the Chhattisgarh cricket team squad doesn't have many prominent players, but they still have some very skillful cricketers. Firstly, there's Shubham Agarwal, who has played for Gujarat Lions in the 2017 Indian Premier League.
The squad has got Harpreet Singh, who has also played in the IPL for Pune Warriors and KKR. Apart from that, Singh has also represented India U19 and has a pretty solid domestic record.
Amandeep Khare, the right-hand batsman from Madhya Pradesh will also be a part of the Chhattisgarh cricket team squad. Khare also has played international cricket for Indian U19 team.
That being said, below is the complete Chhattisgarh Syed Mushtaq Ali Trophy players list, along with their roles.
Shubham Agarwal (All-rounder)
Harpreet Singh (Left-hand bat)
Amandeep Khare (Right-hand bat)
Shashank Chandrakar (Right-hand bat)
Sanidhya Hurkat (Right-hand bat)
Jiwanjot Singh (Right-hand bat)
Shourabh Kharwar (All-rounder)
Vishal Kushwah (All-rounder)
Ajay Mandal (All-rounder)
Veer Pratap Singh (Right-arm medium)
Ravi Kiran (Right-arm medium)
Rishabh Tiwari (Left-hand bat)
Sumit Ruikar (Slow left-arm orthodox)
Shahnawaz Hussain (Right-arm medium)
Shashank Singh (All-rounder)
Shubham Singh (Leg-break googly)