Euro T20 Slam was officially launched in Ireland, Dublin on 30 April 2019 and we now know the team names as well as the full match schedule and the official venues where the league will take place. In the media launch it was later announced that the Official Player's Draft will take place soon and will be done in two separate parts.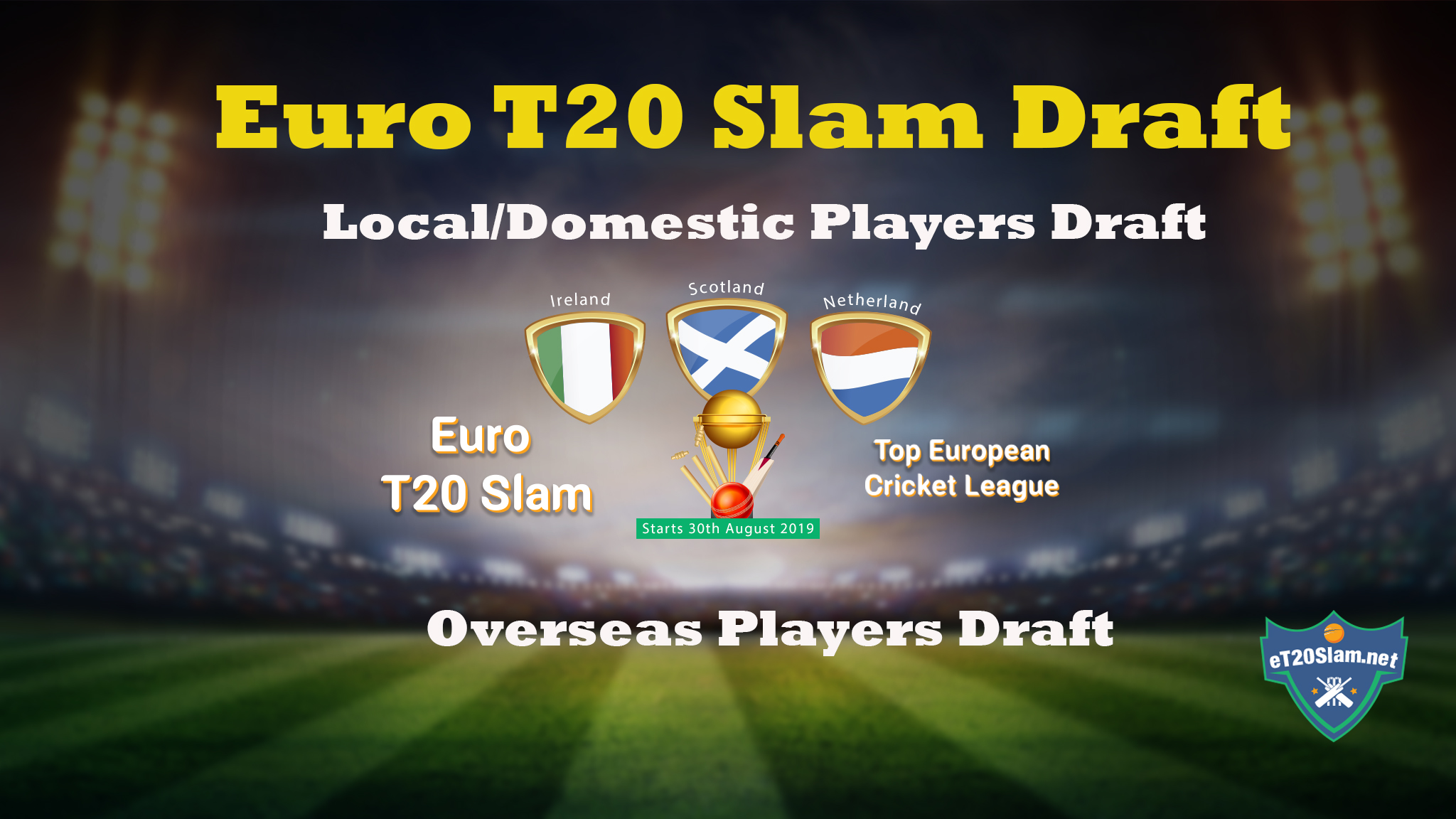 Euro T20 Slam Draft 
There are six franchises taking part in the first ever European T20 League and it was decided that each franchise could have up to 16 players in their squads. 9 Players must be local players in each country's franchise and a maximum of seven foreign (international) players can be drafted by a team.
Local Players Draft 
The first part of the Euro T20 Slam draft will be held to select all Ireland, Scotland, and the Netherlands local / domestic players. A total of 54 domestic players will be selected in this draft where each franchise can select up to 9 players in the team.
International Players Draft 
The second part of the eT20s draft will be scheduled for overseas (International) star players to make this league competitive, and it is worth noting that six overseas players were announced in the Icon and Marquee Players categories that are discussed in detail here on the initial launch day. A total of 42 players from overseas will participate with the support of three cricket boards in this much anticipated T20 League from Europe.
Selected Players in Draft 
Once the official draft ceremony goes live, the complete player list for Euro T20 Slam draft picks will be updated soon. The organizers and promoters started accepting the franchise bids on April 30th, 2019 and once the team owners are finalized we'll see the official Euro T20 Slam draft.
Official Draft Ceremony 
It's now confirmed by the officials of Euro T20 Slam that that inaugural draft of the league is scheduled to happen on July 19th, 2019 in London. It's been confirmed by the organizers that around 700 players from 22 nations have registered for the draft to participate in the 1st ever European T20 league.  The local players from all three nations (Ireland, Scotland and Netherlands) will be submitted for the drafts by the respective cricket boards.
The 12 players have already been confirmed and selected in Icon and Marquee category where players will earn from $115,000 to $135,000.
A total of SIX franchises are participating in the league and out of 6 Icon and 6 Marquee players it's confirmed that each franchise will have 1 Icon and 1 Marquee player. A list of confirmed players are listed below.
Rules For Euro T20 Slam Draft Picks 
Every one of the six teams can pick at least five and a maximum of seven overseas players from the value classification of $80,000, $65,000, $50,000, $35,000 and $20,000. Domestic players from Ireland, Scotland and the Netherlands will be accessible at a value total of $35,000, $20,000 and $10,000. A franchise team will have to pick at least nine local domestic players from the drafts.
According to the league rules, each team will have to play at least six local players and a maximum of five overseas players in the playing eleven.
All the six franchise teams – Amsterdam Knights, Rotterdam Rhinos, Edinburgh Rocks, Glasgow Giants, Dublin Chiefs, and Belfast Titans – will be allowed a chance to choose their icon and marquee players in advance.
Many Well Known Cricketers In The Draft 
There has been an extremely high level of interest shown by cricketers playing in all big nations like Australia, Pakistan, Sri Lanka, England and many more. Some of the names we got to know are Ben Cutting, Sarfaraz Ahmed, Mustafizur Rahman, Kusal Perera, Angelo Mathews, Mohammad Amir, Fakhar Zaman, Shaheen Afridi, Colin Ingram, and Tymal Mills. A complete list of players will be released soon.
It's worth noticing that Pakistani 19-year-old bowling sensation Shaheen Shah Afridi who recently performed in ICC Cricket World Cup 2019 is also available in the draft and we are sure that he will be picked by any of the six franchises.
Where To Watch Euro T20 Slam Official Draft 
The official draft will take place on the 19th of July in London where all the franchise owners, board members of the advisory committee and some of the well known International Stars expected to be at the draft.
All the cricket fans will be able to watch the draft ceremony on Euro T20 Slam social media platforms from 10 a.m. (GMT).
Complete List Of Draft Picks For Euro T20 Slam 
At the start of the ceremony, all teams were given the opportunity to pick their Icon and Marquee Player. Each team has picked one Icon and one Marquee player in their franchise teams. Take a look at the biggest picks.
The draft ceremony for Euro T20 Slam has been LIVE and check out the below tables which is getting updated as we see the players getting picked.
First Round Of International Players Draft are mentioned below and it started very well for each franchise.
Second Round For the Foreign Players Draft was again balanced and each franchise had the opportunity to get hold of excellent players in limited format cricketers which they did. Here are the players which were selected in the second round.
The third round for the Foreign player's draft was again competitive but for us the excellent pick award surely goes to Rotterdam Rhinos who have picked Pakistan's 19-year-old bowling sensation and ICC Cricket World Cup record-breaker Shaheen Afridi, as well as Edinburgh Rocks, who got hold of the English pacer Tymal Mills who is vastly experienced in playing many T20 leagues all around the world.
The Round 4 proven to be the difficult round to pick players as we generally see in drafts but credit to all the franchise owners and teams of the analyst who kept their head cool and still were able to pick great players who are match-winners on their day.
Round 5 in Category E was the best value for money for franchises where they got hold of some decent experienced players in a lesser price tag but are match-winning players.
We have finished the first five rounds and now there will be two more rounds for Foreign players draft where all franchisees will be picking two supplementary picks for 6th and 7th player in each franchise.
That concludes the supplementary round for now and we are heading towards Lunch Break. In the supplementary round, most of the franchises have put a hold to see whether they can pick some other player later today if the foreign player allows being picked for a lesser price tag they initially intended. After the Lunch, the second round for the drafts will begin where all the franchises will be picking local players from Ireland, Scotland and the Netherlands.  In the local players draft, each franchise can pick a maximum of 9 players as per the rules stated.
Local Draft has taken place via country wise and each country cricket official was present where they announced the local players available and then each franchise selected nine players. The local draft was started with the Netherlands franchises (Amsterdam Knights , Rotterdam Rhinos). Take a look at the selected players for both franchises.
After the Netherlands, the local draft players have been selected for Scotland based franchises.
And last part of the draft ceremony conducted a draft for Irish local domestic players and we saw many well-known players from Ireland got selected in the draft.
That's all we got for the draft ceremony which went really well and all the six franchises looked very happy at the end for the team composition they were able to create and this surely be the top T20 league in the circuit since many great players have been selected in the draft and many were missed too. Let us know in the comment section which team got the upper hand and have a better team to win the 1st ever title of Euro T20 Slam 2019. Be sure to check out each team schedule and teams squads will be updated on the site very soon.