Test cricket is indeed the most prestigious format of the game, but T20 is certainly the most popular one. There are dozens of T20 leagues all around the world, both national and international. Though there's one domestic T20 championship that is played with the highest order of quality, in India. Obviously, we are talking about the Syed Mushtaq Ali Trophy. Unfortunately, it has kept the fans waiting for one year, after getting postponed in 2020 due to the Covid-19 state of affairs.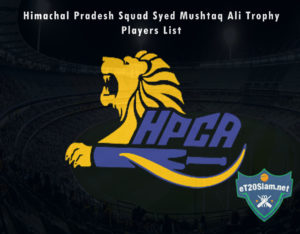 At the same time, the league is about to return from the 10th of January, so, yes, the wait is going to over soon. The tournament will then go on to run for 21 more days, until January 31st. Every domestic team in India will take part in the competition. That also includes our team in the discussion here, the Himachal Pradesh cricket team squad.
In the first place, if we look at the history, then Syed Mushtaq Ali Trophy team Himachal Pradesh has never won the championship. On the other hand, it's counterparts Uttar Pradesh and Madhya Pradesh, both have played in finals of the tournament, with the former winning the title in 2015/16. Undoubtedly, the Himachal Pradesh cricket team squad will be eyeing the trophy this year, to get on-board with all the champions.
Furthermore, in this article, we are going to discuss more regarding the Himachal Pradesh Syed Mushtaq Ali Trophy team 2021. Moreover, their complete players' list will be available at the end.
Himachal Pradesh Syed Mushtaq Ali Trophy Team 2021
It's easy to say that you only need to finish at one of the top spots in your group, even when the competition is going to be extremely tough. The Himachal Pradesh cricket team squad has a huge task in front of them if they want to make it to the knockouts. The reason for saying that is, they'll be going up against Chhattisgarh, Uttarakhand, a very strong Maharashtra team, and the two-time champions Gujarat and Baroda.
By all means, the Himachal Pradesh cricket team squad can go all the way this year. However, they'll have to work hard for a top 2 spot. The knockouts will begin on the 26th of January. Motera Stadium, Hyderabad will host all the finals.
Himachal Pradesh Syed Mushtaq Ali Trophy Players List
The Himachal cricket team squad unquestionably has the depth in both batting and bowling divisions. What they require is team chemistry, and the players to step up at the right moment, and we might see a new champion this year.
Following is the complete Himachal Pradesh Syed Mushtaq Ali Trophy players list, along with their playing roles.
RI Thakur (Left-hand bat)
Kanwar Abhinay (Right-arm fast-medium)
Amit Kumar (Right-hand bat)
Vaibhav Arora (Right-arm fast-medium)
Ankush Bedi (Right-arm offbreak)
Mayank Dagar (Slow left-arm orthodox)
Prashant Chopra (Right-hand bat)
Rishi Dhawan (All-rounder)
Arpit Guleria (Right-arm medium)
Pankaj Jaiswal (Right-arm medium)
Ayush Jamwal (Slow left-arm orthodox)
Nitin Sharma (Right-hand bat)
Abhimanyu Rana (Left-hand bat)
Ekant Sen (Right-hand bat)
Akash Vasisht (Slow left-arm orthodox)