Khulna Tigers BPL formerly known as Khulna Titans is one the oldest franchise in Bangladesh Premier League who participated in the initial edition of BPL 2012. Last year Khulna Tigers BPL did not have a good season and they were knocked out in the play-off stage which was disappointing for a lot of fans. For the Bangabandhu BPL which is the special edition of the league celebrating 100th birth anniversary of Bangabandhu Sheikh Mujibur Rahman, BCB decided to make the seventh edition of BPL a bit special and this time they are organizing the whole league themselves and Khulna Tigers sponsor 2019-20 has also been updated with Premier Bank and BCB decided to change the name from Khulna Titans to Khulna Tigers for BPL 2019-20.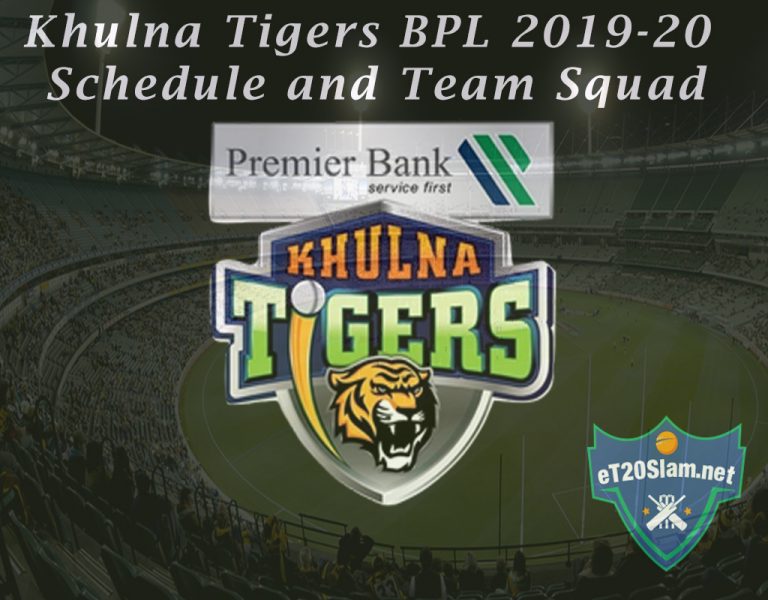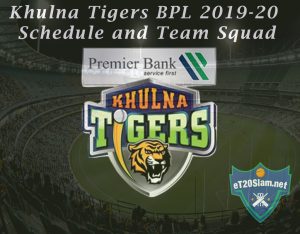 The Premier Bank Khulna Tigers 2019-20 is ready to earn their first-ever title of the Bangladesh Premier League and make things even special because this league is a celebration of Bangabandhu's 100th birth anniversary. The premier bank who is the new sponsor of the franchise has assigned highly professional management to look after their players and other management needed to run the franchise professionally. Since BCB has canceled all the franchises for the Bangabandhu BPL all the franchises have to go back to planning and pick the suitable players for the line up who can win them special edition of BPL. 
Khulna Tigers Schedule and Squad
The team Khulna hasn't been able to win any of the BPL they have participated so far but new additions in the franchise are hopeful for much better results than what they have achieved in the last previous seasons under new ownership and sponsor. The last edition for team Khulna was a season to forget as they lost 10 matches in the group stage which resulted in getting knocked out before the play-offs. The Khulna Tigers will start their Bangabandhu BPL journey on the 12th of December against Chattogram Challengers in an evening match at Dhaka Stadium as per Khulna Tigers' schedule 2019-20. The BPL 2019-20 has been divided into five different phases and Khulna Tigers fixtures 2019-20 revealed that they will play one match at Dhaka in the first stage of the league. The second stage of Bangabandhu BPL will lead Khulna Tigers BPL to play the next match on the 17th of December, 2019 against the Rajshahi Royals at Chattogram. The complete Khulna Tigers fixtures 2019-20 for BPL 2019-20 is as follows.
Premier Bank Khulna Tigers BPL 2019-20 Schedule
The Khulna Tigers' new sponsor and management were present on the draft ceremony of BPL 2019-20 where all franchises were present to pick skillful players amongst a list of 1000 players including both local and foreign stars shown their availability for the league. Mushfiqur Rahim is one of the top picks made by Khulna Tigers squad 2019-20 who has a vast amount of experience and he is considered a key player in the national team of Bangladesh. Amongst, the list of 14 players picked by Khulna Tigers management we can see they have chosen some very interesting players in the draft who do offer something extra to build the spark for the franchise. Mohammad Amir is another excellent pick made in Khulna Tigers team squad 2019-20 who will make their bowling line up quite lethal and he provides a bit of runs control as well which is considered gold in the shorter format of the game. In the local Khulna Tigers players list 2019-20 they have opted to go for Mehidy Hasan, all-rounder highly rated in Bangladesh for his spin bowling and power hitting. The complete Khulna Tigers squad 2019-20 for Bangabandhu BPL is as follows.
Premier Bank Khulna Tigers Players Lists
In the Khulna Tigers team squad 2019-20 we can see the planning behind picking experienced players with a bunch of local players from Bangladesh to create a good mix of players in the bench strength. Even in the shorter format the experienced players can create a much bigger impact than the new players with little or no experience. Mushfiqur Rahim will guide his team behind the stumps and we all know he is a fighter and always gives his 100 percent whenever he is on the field playing for his country or any franchise. They also made sure in Khulna Tigers players list 2019-20 to give them good options in the all-rounders department like Robbie Frylink who is from South Africa and recently done quite well in different T20 leagues around the world.
Khulna Tigers Schedule/Fixtures Download
Khulna Tigers have drafted a squad of 14 players with a good mix of highly experienced T20 players as well as some fantastic local talent from Bangladesh. Looking at the team squad of Khulna Tigers one can say they have a good balanced side who can definitely make a huge impact in the Bangabandhu BPL and might as well win the title for the first time which will be the great thing for Khulna Tigers fans. We know that there are millions of fans eagerly waiting for their favorite franchise in action for BPL 2019-20 that is why we created a nice PDF file containing information about Khulna Tigers schedule download so passionate cricket fans like you never miss out of the live-action and purchase the tickets accordingly as per the fixtures. Watching the match live at stadium provides an excellent entertainment to the fans and there is a huge craze for cricket in Bangladesh so keep yourself updated for Khulna Tigers BPL and keep supporting them like you fans did in earlier seasons.