The third, and final, location of the Euro T20 Slam 2019 is the Malahide Cricket Club Ground in Ireland. It's located in the Lady Acre field of the picturesque Malahide Castle grounds. These grounds are owned by the club itself, which was originally founded in 1861, although the venue didn't open to international cricket games until 2013. It quickly became a top international location for cricket, however, due in part to its ability to seat 11,500 people. This is the largest cricket venue in Ireland and is known not only for its size, but also for its beauty.
Fans of the T20 Slam will love the gorgeous location of this club as well as the fact that it has two playing pitches. One of these pitches is the location for the national Cricket Ireland team. There is also a very comfortable and attractive clubhouse with a bar. They are open seven days a week and are available for event rentals, which is great for anyone who wants to enjoy the ambiance and gorgeous location of the club for their private event.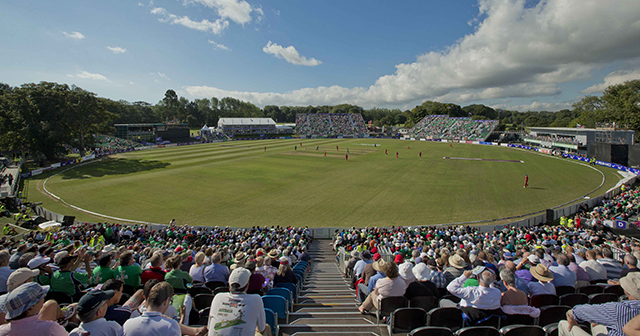 With more than 400 members, it's easy to see how this club boasts 20 teams. There are not only men and women's teams, but also youth teams and a Taverners side, which means that everyone can find a team that meets their needs and where they will be not only welcomed, but also competitive. Thanks to the gorgeous location, the expansive pitches, and the summer camps that they run, this is the most popular cricket destination in Ireland. It's been the home to international cricket matches since 2013. While there are two other international cricket venues in Ireland, the Malahide Cricket Club is the most popular.
Both local and international families can join this cricket club, and since membership is open all year long, it's easy for new members to join and start playing games right away. This welcoming club makes it easy for new members to find the perfect team to play on, which encourages players to get involved right away and to start meeting new people.
Since the club is located just 10 minutes from the Dublin Airport, it is easily accessible for anyone coming to enjoy the T20 Slam this fall. It is easily accessible to people taking the Dublin Bus, which will be running for the event this fall. Additionally, with so much room for spectators for these matches, teams, families, and spectators will all easily be able to get to the club and find a place to watch.
Matches Schedule For Malahide Cricket Club Stadium
Not only has this club been chosen to host the 10 games of the Ireland round of the European T20 League, but it also hosts the knockout stage. The 10 games begin on 13 September 2019, and end on 19 September 2019. Following a 2-day break, the knockout stage of the competition begins. There are 2 semi-final games played and then, on 22 September 2019, the final game will be played. Being selected to host the final games is an honour and sets this club apart from other venues for Euro Slam.
After the 1st and 2nd rounds of the league finished in Netherland and Scotland, the final round of 10 group matches will take place at this beautiful venue of Malahide Cricket Club, Dublin.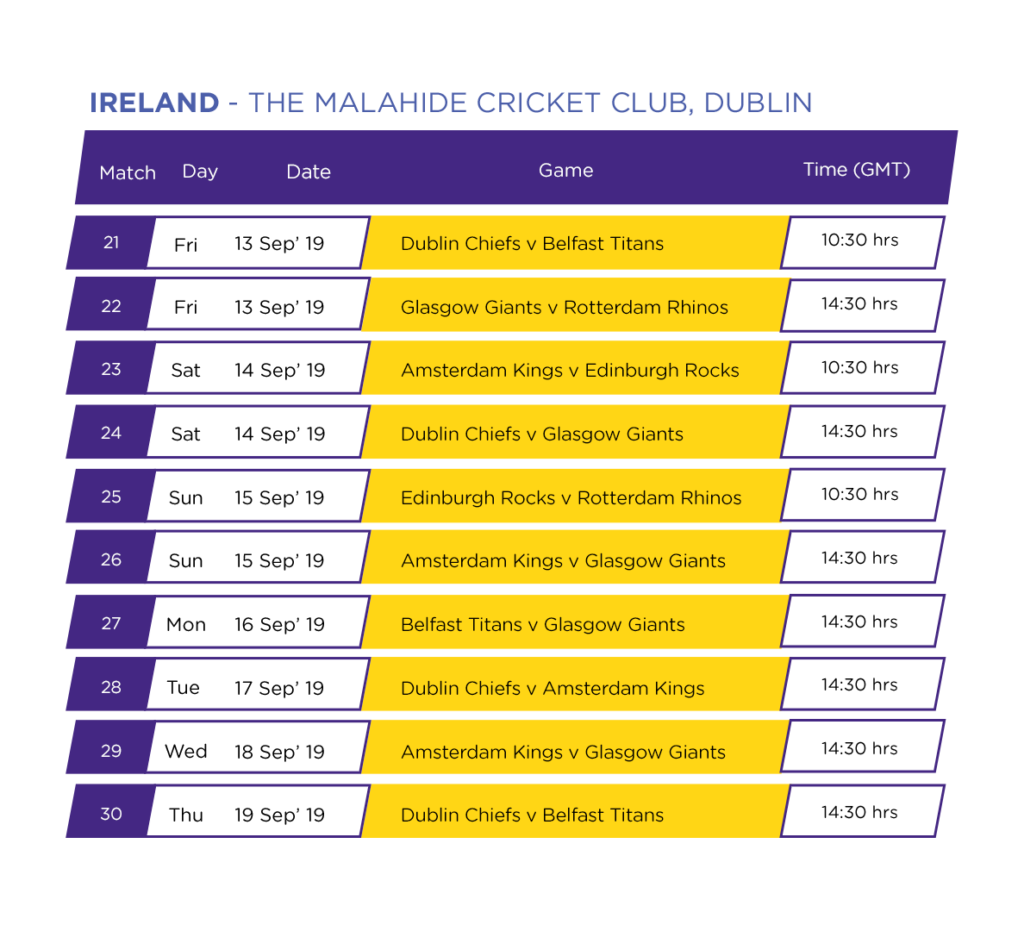 Semi-Final and Final Matches Schedule :
After the 30 Group Matches between six teams, the Semi-Finals and the Big Final will also happen at this beautiful historic stadium of Ireland, Dublin.

In Test and ODI, Malahide Cricket Club Stadium witnessed numerous memorable international centuries. Now it's time to have a T20 hundred special score in Euro T20 Slam 1st edition: D
Apart from centuries, there are also 5- ODI five wickets haul records being established in this historic Irish Cricket Ground.
Malahide Cricket Club, Dublin is going to be home to Dublin Chiefs & Belfast Titans who are the two teams playing in the Euro T20 Slam from Ireland. In this much anticipated league, the competition will be high as it involves 3 different countries fighting for the title against them.