Euro T20 Slam is the first European Cricket League which is going to be started from 30th August 2019 which will have 33 highly competitive matches among 6 teams from Ireland, Netherlands, and Scotland. Today, the organizers of ET20S has announced a partnership with a well-known company who has built fantasy leagues for many other leagues and tournaments in past named "Dream11"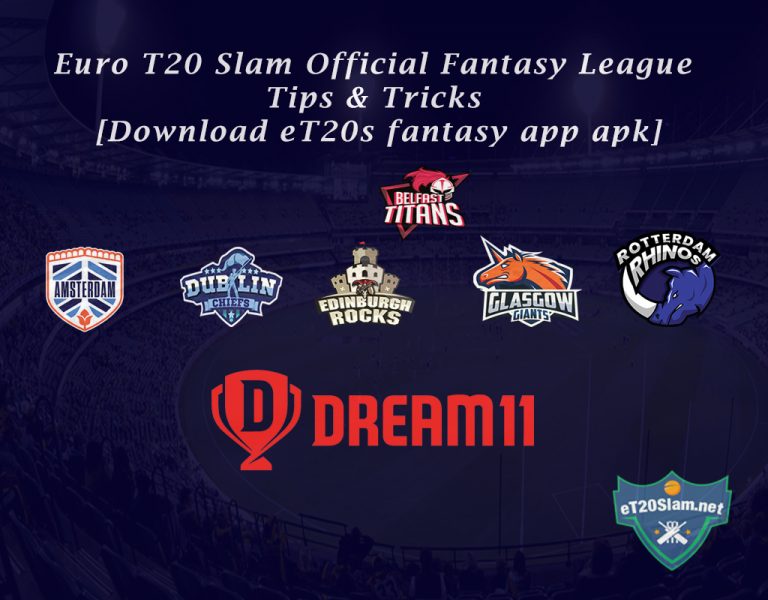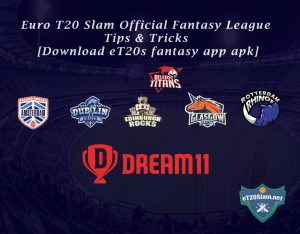 Dream11 has already got access of around 70 million-plus users and all user base will have access to participate in the Euro T20 Slam fantasy league. The matches will observer a few Dream11 brand incorporations and on-ground initiations at different touch focus during the matches.
What is Fantasy League : 
Fantasy league is a part of fantasy sports where users create their own teams and select players which they think will prove to be the key player who will score or take wickets or contribute to the game through his brilliant fielding. Each event in a game help users to earn points and gain top sports on the leatherboard. The users who end being on top three on leatherboard at the end of the event win many expensive exciting rewards and gifts so it's the best way to interact with your favorite team and win prizes as well.
Fantasy League Tips and Tricks :
To earn exciting prizes in the Euro T20 Slam fantasy league you first need to understand the game how it works and how you can create a virtual team of real players and with the right skill and strategy win the game. Fantasy cricket is right now the most popular way of connecting with sports in India and in many major parts of the world. We are highlighting a few key points which you should consider before playing the Euro T20 Slam fantasy game and it will increase your chances to win exciting prizes.
Consider and Understand Players Performance
Many cricket fans are sometimes emotionally attached with players and due to being their top fans fantasy players select those players in the league on basis of reputation instead of considering the correct form of player. The pool and players of Euro T20 Slam is quite big so you need to make sure you select players who are coming to the league with current performances rather than the past performances a player did a few years back. Example of the best pick for fantasy league will be to select Babar Azam in your team who is in great touch and current scoring tons of runs in the Vitality Blast.
Consider Pitch Conditions
Before selecting your team for the game you should do a little bit of research where the match will be played and whether the pitches at the venue are completely flat (high scoring) or there is some sort of spin or pace available in the pitch. Example if a pitch is offering bounce and swing then you should consider adding players to your team who have these skills which will give you higher chances of scoring big points and winning big prizes.
Select Players Who Are Sure To Be Playing
You need to be sure while selecting a player in your team who will definitely play in the match for which you are building a fantasy virtual cricket team. You won't believe that many fantasy players often neglect this important core of fantasy league and it's the worst thing to happen to a fantasy player where you select someone who is not playing in a team. Example of players who are sure to be played in Euro T20 Slam teams are Rashid Khan, Shane Watson, Shahid Afridi, Babar Azam and many more so select those players first in your team who can give you more chances to earn high points.
Pick Captain and Vice-Captain Wisely 
It's a very crucial decision you need to make while creating a team for your Euro t20 slam fantasy league is to pick captain and vice-captain who are bold, aggressive and play a major role for the team. Captain of your fantasy team will earn you 2X points while vice-captain will earn you 1.5X points. One of the key points for Euro t20 slam fantasy league tips and tricks is to select the all-rounders the captain and vice-captain who can offer you more points with both bat and bowl
Uncapped Players 
In your fantasy team, you will need to pick uncapped players from Ireland, Scotland and the Netherlands in your team who have not played the International cricket yet but have the skills to prove it at the highest level. Before picking a player we suggest you to google his name and check his domestic stats from Cricinfo stats guru and understand the player's most exciting skill.
It's important to strategize your fantasy game but it's equally important that you enjoy the Euro T20 Slam fantasy game. You are a cricket fan so you already understand the game but to win the euro t20 slam fantasy prizes you need to be in the decision maker's shoes and make decisions which can yield the highest points.
Euro T20 Slam Fantasy League App/Apk
The fantasy league will be played on the official app of Dream11 who have 70 million users already and the app is available both for Andorid and IOS users and all the features for Euro T20 Slam fantasy league will be available on the official app before the 1st match happening on 30th August 2019.
Euro t20 slam fantasy league apk is available of play store if you search "Dream11" and it for ios euro t20 slam fantasy league app can be downloaded from apple store. If you want to download directly from the official website you can download it from here.