Rajshahi Royals is a franchisee who has been associated with Bangladesh Premier League and the first time a franchise from Rajshahi participated was in 2011 and after the second edition of the league but then this franchise has been suspended by BCB and they again joined back in the year of 2016 with a completely fresh look with new personnel in management and owners. Since 2016 they have been a regular member of BPL 2019-20 as Rajshahi royals BPL franchise but they have been below par with the performances and got knocked out in the league stage.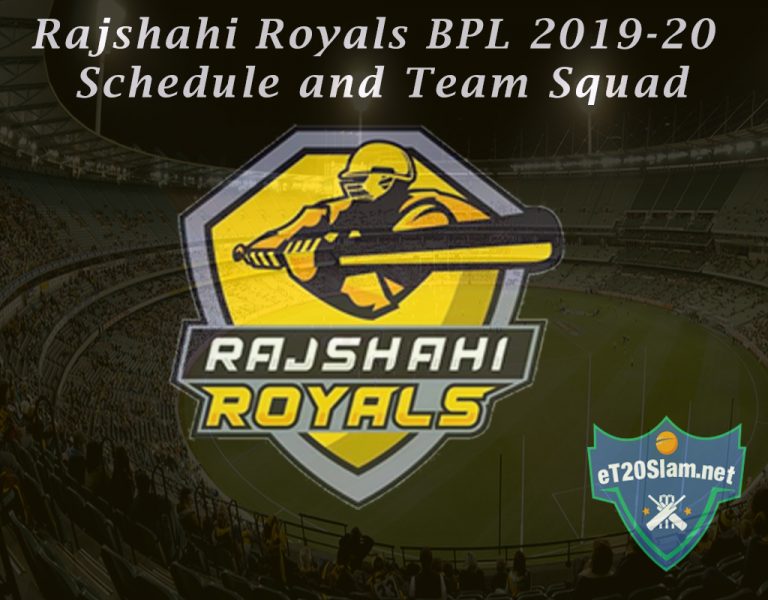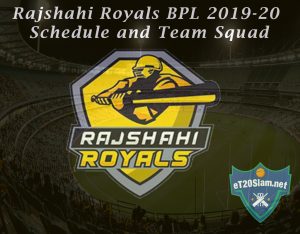 For BPL 2019-20 which is a special edition of a league known as Bangabandhu BPL have 2 new sponsors for the Rajshahi Royals named IPC and Mind Tree which is known as the Bengal Group entity in the country. The Rajshahi royals BPL 2019-20 will notice some changes in terms of management which will help them to improve the performances and try to push themselves into the play-offs stage. In the last edition, Rajshahi royals BPL were knocked out at the league stage but with new sponsors, fans are hoping that things will improve for the franchise especially for the  Bangabandhu BPL which is celebrating 100th birth anniversary of Bangabandhu Sheikh Mujibur Rahman.
Rajshahi Royals Schedule and Squad
The team Rajshahi has had an excellent start in Bangladesh Premier League in the first two editions they participated but after the suspension and then joining back BPL in 2016 has somehow impacted the performances of the franchise a great deal. Last year they were again below par in the league stage and could not able to go through into the play-offs. BCB recently announced the Rajshahi royals schedule 2019-20 in which it has been unveiled that they will be starting the BPL 2019-20 campaign on the 12th of December against Dhaka Platoon is a home side at the Dhaka stadium. Rajshahi Royals will play 2 matches in the 1st phase of the league week which is scheduled to be played at Dhaka.  The event schedule which BCB announced has given Rajshahi royals a good amount of off days which will certainly help them to formulate a better game plan and strategy against each opposition. The complete Rajshahi royals fixtures 2019-20 is as follows.
IPC and Mind Tree Rajshahi Royals Schedule
The owners of Bengal Group and management of Rajshahi Royals were present at the draft ceremony of Bangabandhu BPL where they picked quite a strong Rajshahi royals squad 2019-20 with many exciting youngsters in the list of 14 players. Ravi Bopara a very experienced English man is part of Rajshahi royals players list 2019-20 who will definitely share his vast experience of playing T20 leagues around the world with the youngsters of Bangladesh cricket who can serve them in national team by learning from the experienced guy like Ravi. Muhammad Irfan the tall fast bowler is also amongst the Rajshahi royals players list 2019-20 who has been a very consistent performer in T20 leagues all around the world. The complete Rajshahi royals team squad 2019-20 announced by BCB is as follows.
IPC and Mind Tree Rajshahi Royals Players Lists
In the Rajshahi royals squad 2019-20, there are lots of exciting young talent from Bangladesh who have a bit of experience of playing T20I as well like Liton Das who is an aggressive batsman and have done quite well with the International team recently. Abu Jayed Rahi is another exciting young bowler in the Rajshahi royals players list 2019-20 who is a very handy right-arm fast-medium bowler who has a bowling strike rate of 15 which is considered quite good in the shorter format of the game. Overall, the team composition is pretty good as they have good young bowling line up along with experienced players in the middle order who can provide them a good score to defend in each game they play. 
Rajshahi Royals Schedule/Fixtures Download
Rajshahi Royals have a 14 member squad consisting of a very good balance of young and experienced players which is always a great sign for a team playing T20. The last 2 seasons they couldn't perform up to the mark but in this edition, they are looking to settle things much better and the first task of the franchise will be to reach the playoff stage. We understand there is a lot of fanbase support for this franchise all around Bangladesh and hence we have created Rajshahi royals schedule download so passionate cricket fans like you will never miss out on any of the live-action in the special edition of Bangabandhu BPL. Let us know your thoughts below whether this time Royals will be able to win the title of the special edition of BBPL or not.


Rajshahi Royals Winners Of Bangabandhu BPL 2019-20
Bangabandhu BPL 2019-20 has been concluded and Rajshahi Royals have been able to win the special BPL season which will be remembered for a long time. Andre Russell lead his team to victory through his fantastic leadership, batting and contribution with the ball. Rajshahi Royals have well-deserved BPL 2019-20 winner and they truly played like a CHAMPION team though out the BPL 2019-20.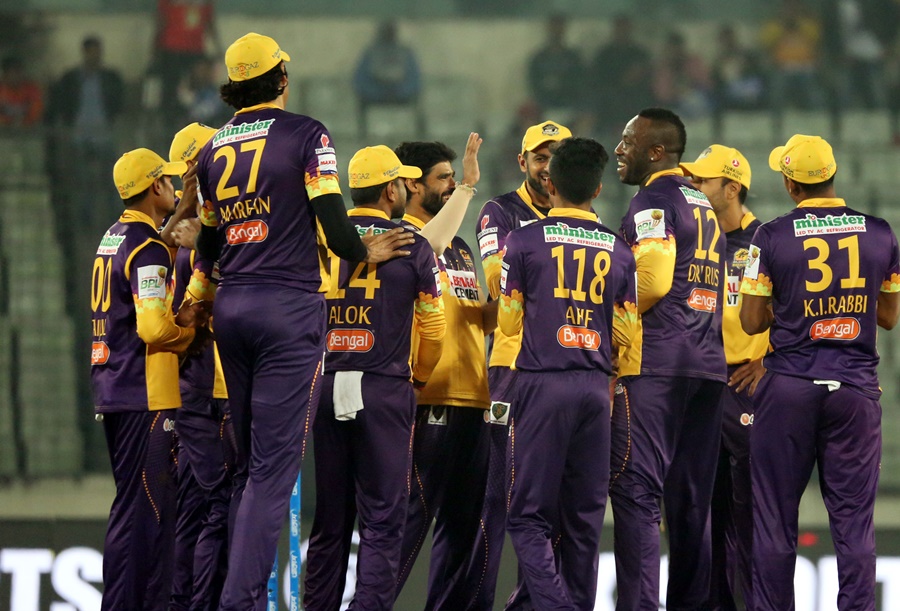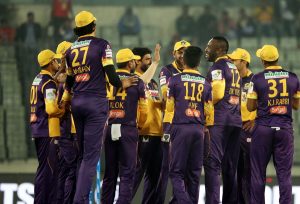 The Bangabandhu BPL winner will forever be named as Rajshahi Royals as it was the special edition of the Bangladesh Premier League which paid tribute to Bangabandhu for his 100th birth anniversary. Congratulations to the Champion team and this victory will surely boost the confidence level of young players from Bangladesh who will represent them from the national side in the near future from the franchise.