The fan-favorite domestic T20 tournament of India, Syed Mushtaq Ali Trophy, will be beginning from the 10th of January. Initially, it was planned for 2020 but got canceled due to covid-19 issues. However, BCCI has now rescheduled the tournament from the 10th to 31st of January, 2021. Similar to last seasons, all the 38 domestic teams of India will take part in the championship. Karnataka successfully defended their title last year and will hope to do the same this time as well.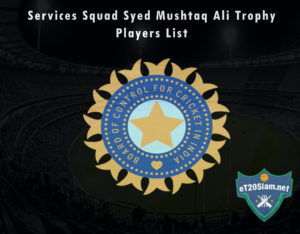 Services cricket team squad is also one of the teams participating. Unfortunately, they are yet to qualify for the final in any season. Nonetheless, they can start from scratch this time and make their way through to the ultimate stage. They have assembled a good squad, likewise, last time, but only time will tell how good the outcome is going to be.
Live broadcast of Syed Mushtaq Ali Trophy matches will be available on Star Sports Network. In particular, Star Sports 2 and Star Sports 2 HD will telecast the live matches. Online streaming can be viewed via the Disney+ Hotstar app. Apart from this, the fans can keep up with the live scores through our website as well.
Specifically, we are going to discuss Services Syed Mushtaq Ali Trophy Team 2021, in this article. At the same time, we will also provide their complete players' list. So, make sure you read till the end.
Services Syed Mushtaq Ali Trophy Team 2021
Services cricket team squad is in group D. In their pursuit to qualify for the playoffs, they will go up against Goa, Madhya Pradesh, Rajasthan, Saurashtra and Vidarbha.
Their campaign will start from January 11th, when they play Saurashtra at the Holkar Cricket Stadium in Indore. In order to qualify for the knockouts, Syed Mushtaq Ali Trophy team Services has to finish at one of the top 2 places in their group. You can see the complete schedule of the championship on our website.
The knockouts will begin with the quarterfinals taking place on the 26th of January. Semis and the grand-final will follow afterward. Motera Stadium, Hyderabad will host all the final matches.
Services Syed Mushtaq Ali Trophy Players List
Even though Services cricket team squad doesn't look the best team on-board, but they definitely can't be ruled out. They have got some good domestic Services cricket players in their squad, and can upset anyone in the tournament.
Following is the complete Services Syed Mushtaq Ali Trophy Players List. Playing role of all the players is mentioned alongside.
Arun Bamal (Slow left-arm orthodox)
Varun Choudhary (Right-arm medium-fast)
Anshul Gupta (Right-hand bat)
Vikas Hathwala (Left-hand bat)
Lakhan Singh (All-rounder)
Mohit Kumar (Right-arm medium-fast)
Nakul Sharma (Wicket-keeper batsman)
Pulkit Narang (All-rounder)
Navneet Singh (Batting All-rounder)
Nitin Yadav (Right-arm medium)
Rajat Paliwal (Batting all-rounder)
DiweshPathania (Right-arm medium)
Rahul Singh (Left-hand bat)
Raushan Raj (Right-arm medium)
Ravi Chauhan (Right-hand bat)
Hardik Sethi (Right-hand bat)
Sumit Singh (Right-arm medium)
Nitin Tanwar (Bowling all-rounder)
Nakul Verma (Wicket-keeper batsman)
Vikas Yadav (Slow left-arm orthodox)