Euro T20 Slam has officially been announced in a beautifully crafted ceremony which showcased the European Cricketing Culture as well as all the big officials from Ireland, Scotland and Netherland Cricket has attended this wonderful historic event.
Wasim Akram who is also the advisor for the Euro T20 Slam with Dilip Vengesarkar and the Bollywood celebrity Yami Gautam who officially unveiled the logo for the Euro T20 Slam has also made their presence felt on this big occasion.
The Euro T20 Slam has a lot of 1st associated with it and this made this league very distinguish and exciting for cricket fans all around the world. Some of these well-known facts for Euro T20 Slam are :
1st ever continent based league
1st ever T20 cricket league in Europe
1st ever league played in multiple countries in one season
1st ever cricket league to have sanctions and support from three cricket boards (Ireland, Scotland, and Netherland)
Foreign Players Who Joined Euro T20 Slam : 
There are SIX very well known cricket players who have joined this league and who need absolutely no introduction whatsoever in the cricketing community and who has featured in almost all T20 cricket leagues happening right now. Take a look at brief stats over each player who has joined hands with Euro T20 Slam.
Shane Watson (Icon Player) : 
First one is the Australian Cricketer Shane Watson who has played almost every cricket league happening in the circuit starting from Big Bash League to Indian Premier League to Pakistan Super League and many many others.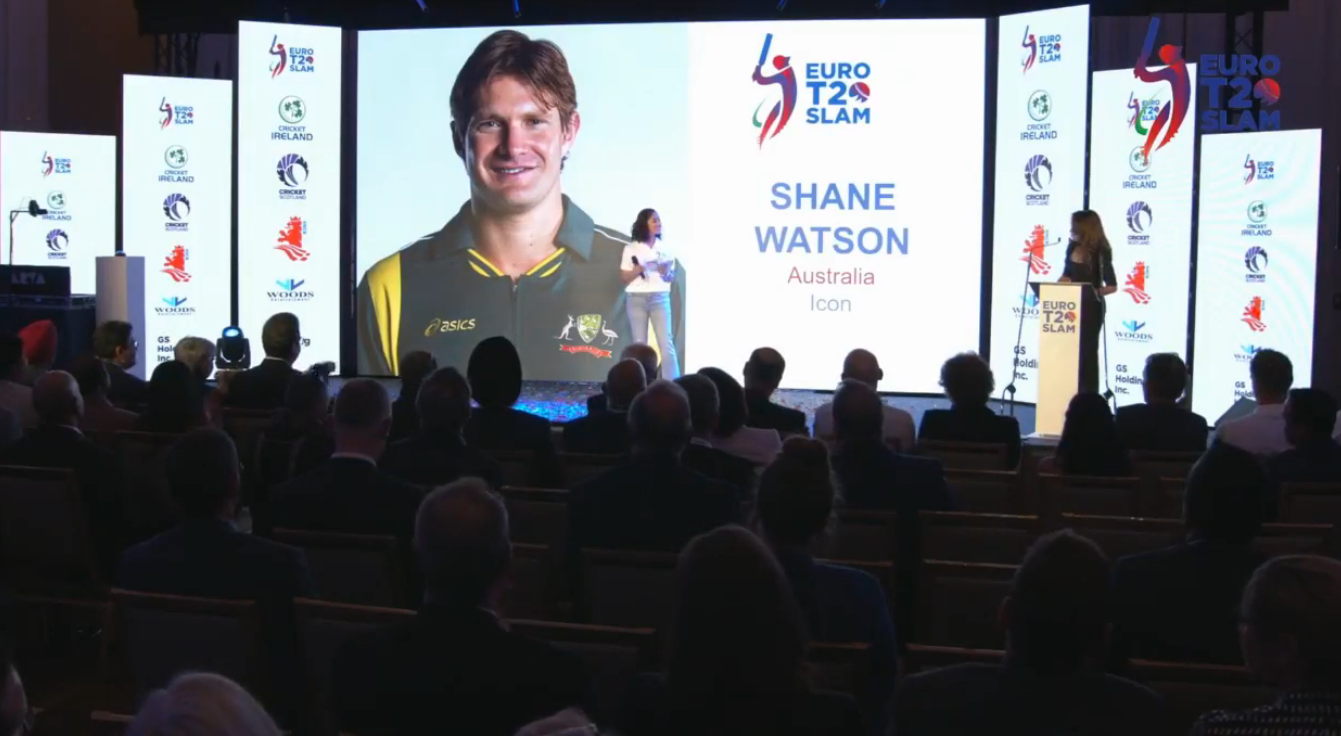 Shane Watson is a very valuable all-rounder who now plays as a sole batsman in most of the leagues and recently he won Quetta Gladiators in Pakistan Super League the tournament through his brilliant overall performances and he is right now going strong in IPL as well. Here is a break down of stats of Shane Watson from all T20s he has played so far.
It's very exciting news for cricket fans all around the world to see Shane Watson a player of his caliber will be playing this much-anticipated cricket league happening later this year in Europe.
Brendon McCullum (Icon Player) : 
The former New Zealand captain and wicket-keeper batsman is also known as "baz" have officially joined the league and he will surely increase the six-hit counter in the Euro T20 Slam at a rapid pace. Brendon has also featured in a majority of the cricketing league going around and he is a top batsman in this T20 format who got an excellent Strike Rate.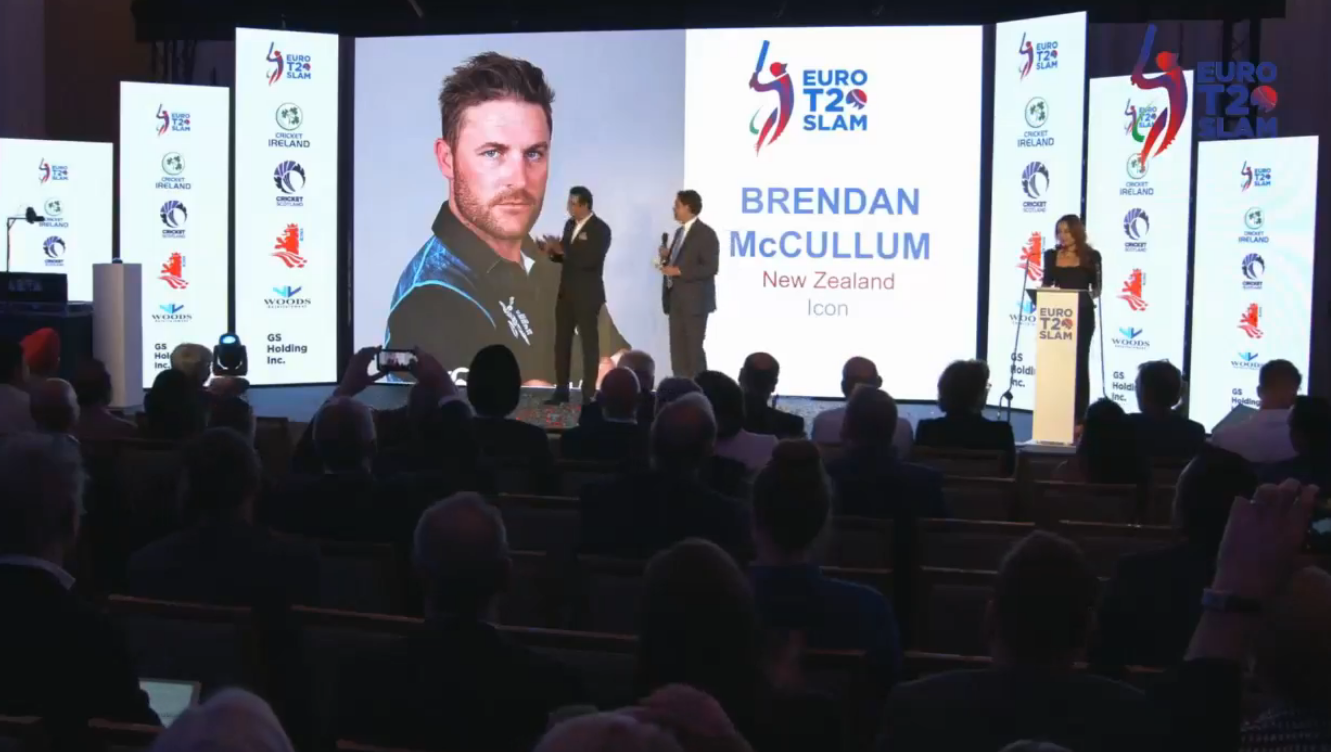 Baz is closing to the 10,000 runs Mark in T20 format which is a very big achievement and it shows how big of a player he is and with his inclusion, all the franchises of  Euro T20 Slam will be itching to grab him first in the auctions. Take a brief of the overall T20 format stats of former Kiwi captain.
Brendon has been a successful captain in Big Bash League and we won't be surprised if he takes the leadership role in this much anticipated Euro T20 Slam.
Babar Azam (Icon Player) : 
He is the number 1 T20 batsman right now in the ICC International Batsman Ratings for T20 Format beating Virat Kohli who dominates in ODI and Test Format. Babar Azam has made a name of himself and world cricket rate him very highly due to his balanced shots and excellent batting technique he got.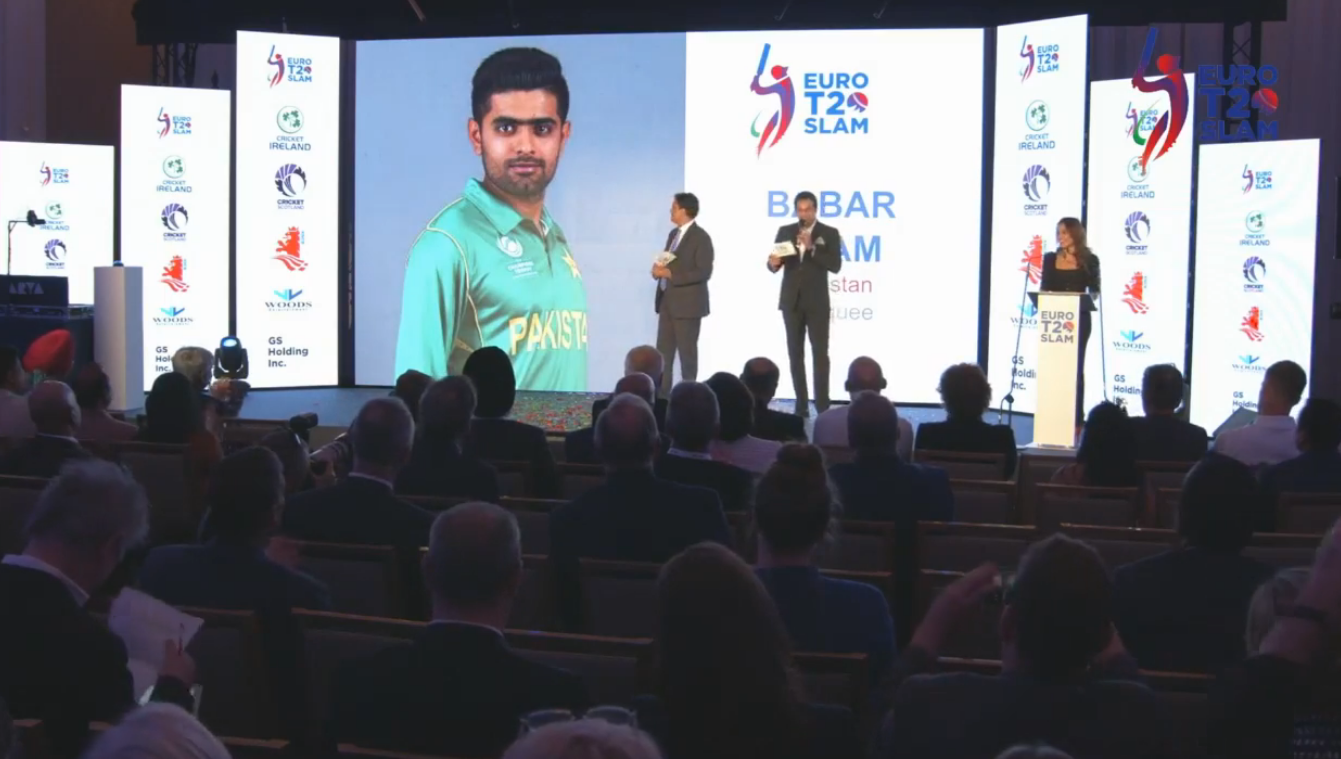 Babar Azam plays in Pakistan Super League as a platinum player and he got the healthy average of near to 40 in the T20 format which is a very achievement to have in this limited format. Take a brief look of what Babar Azam has achieved in the T20 format till now.
One thing is for sure that whoever franchise able to get the facilities of this classic modern era batsman will have an edge over other teams to have a batsman capable of not only scoring in top order but also have the ability to stay at the pitch for whole 20 overs.
Luke Ronchi (Marquee Player) :
Luke is another Kiwi wicket-keeper batsman who also has the experience of playing in many different T20 based leagues all around the world. Even though he has performed in all leagues but recently his performances in Pakistan Super League with franchise Islamabad United has been totally phenomenal and in 2017 he single-handedly made them the Champions as well.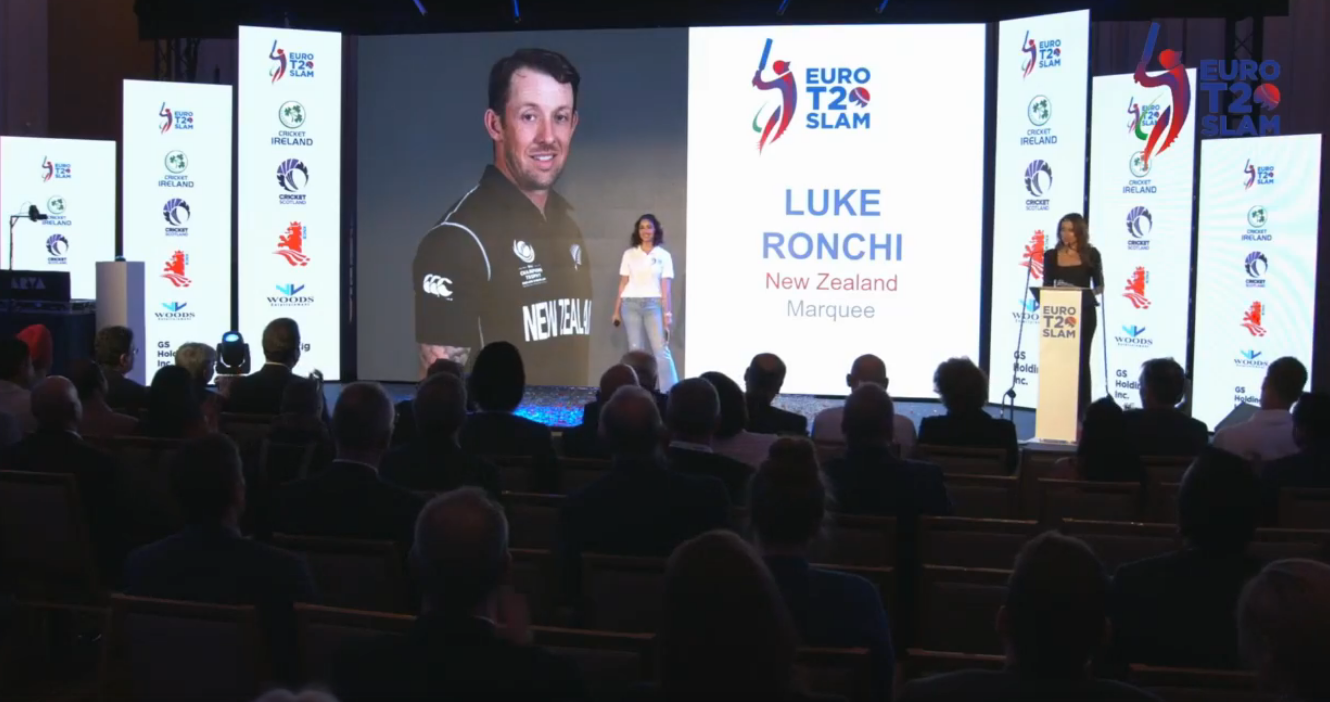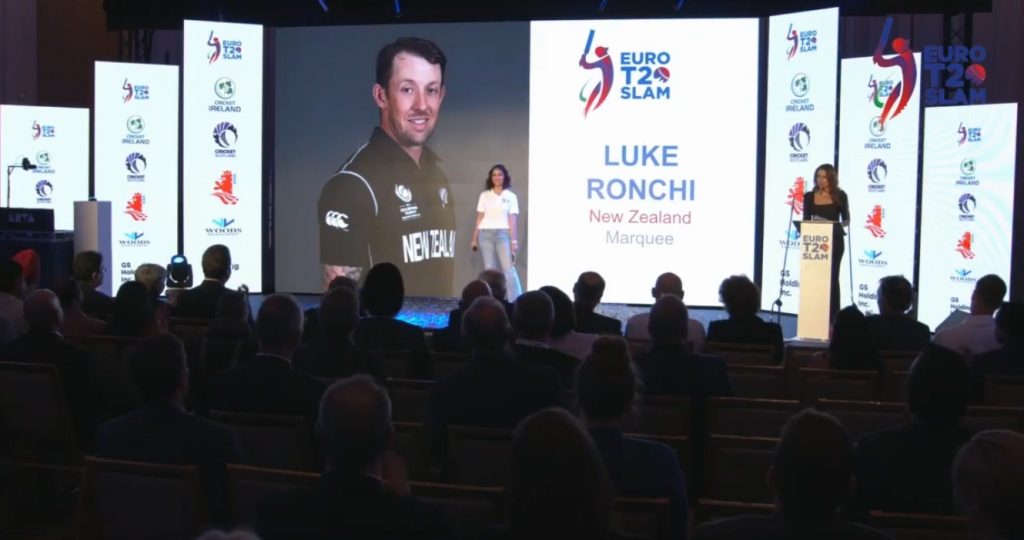 The major benefit of having Luke in the team is surely gonna be his explosive batting form and excellent starts he provides as an opener he play in most leagues plus he is also an excellent keeper and recently in Pakistan Super League, he won Imtiaz Ahmed award for best wicket-keeper of the season 2019. Take a brief look at the stats of another excellent T20 player.
Keeping in mind the pitches in all 3 grounds will be batting friendly in the tournament, Luke will be the great choice for Franchises looking to give them a head start as an opener and with his experience he can help the bowlers behind the wickets as well.
Rashid Khan (Icon Player) :
If we say these days the leg-spinners are dominating the game we won't be wrong. Rashid Khan is another leggie who is currently the Number 1 ICC T20I Bowler and he has also played leagues all around the world and currently the best spinner rated in all forms of cricket.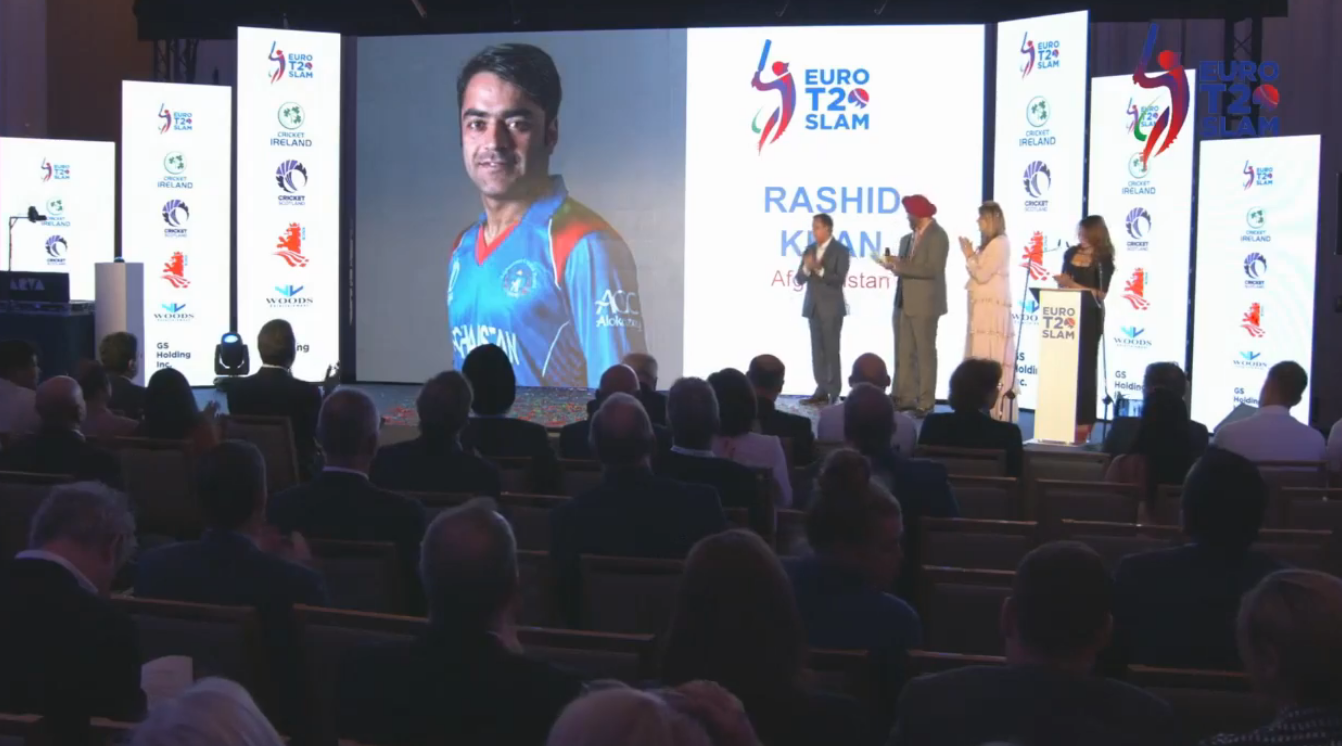 Rashid Khan has made his name from IPL and Big Bash and currently became Afghanistan's top bowler who always provides crutial breakthroughs when his teams needed the most. Take a brief look at the overall T20 stats of this master bowler.
It's often said that cricket is a batsman's game but every team needs someone special and Rashid Khan is certainly the special bowler which every franchise would like to have. Spin always plays a key role in the limited format and he can cause troubles for the batsman even on flat pitches.
Chris Lynn (Marquee Player) : 
Another Australian who needs no introduction and has made the name for himself through his powerful hitting ability and in T20s the first six overs are always crucial for the team so having a player like Chris can definitely help the franchise to post an imposing score.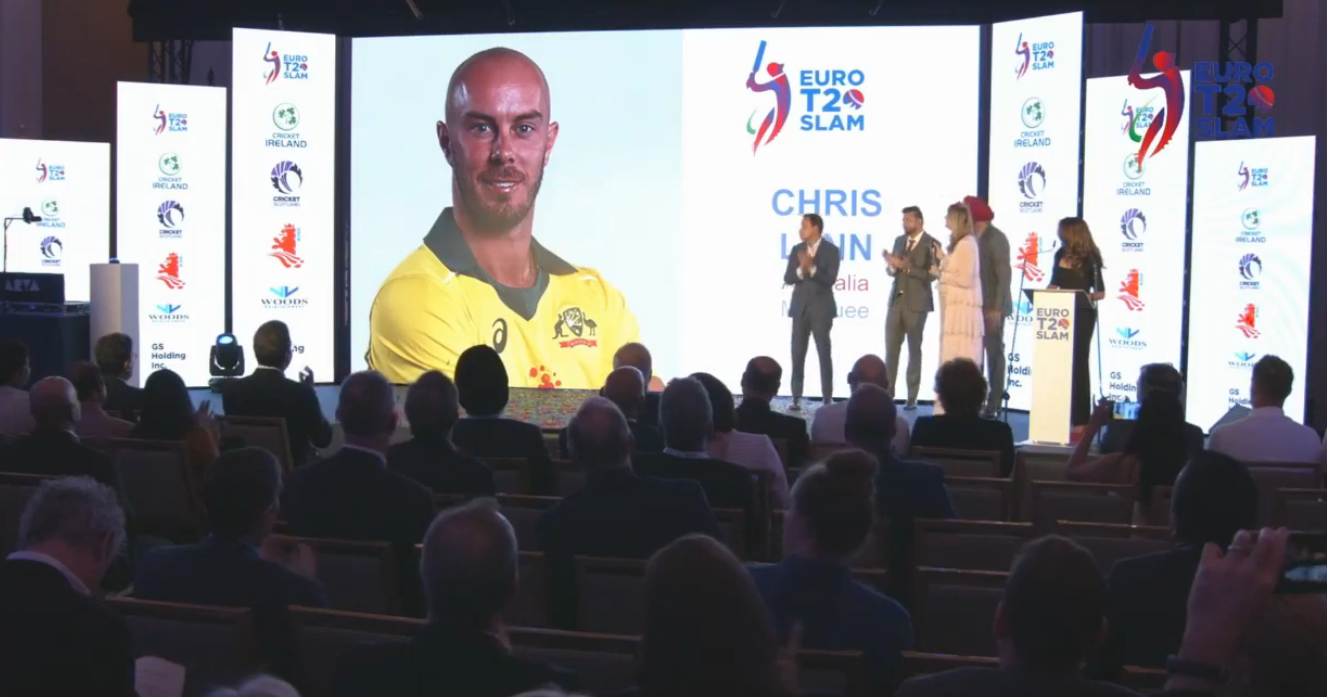 Lynn has been a key feature in IPL and Big Bash league over the years and with his powerful hitting ability, he has become a favorite choice for franchises all around the world. Take a look at his stats of T20s he has played so far.
With an average of above thirties in the T20 format and with a brilliant strike rate he is certainly a powerful force up the order. On his day he can win the game on his own and that is why he is a top choice for franchises and Euro T20 Slam will surely gonna love his big sixes in the much-anticipated tournament.
Our Final Thoughts : 
Overall the players who are announced today are extremely good and all have experience in playing the T20 format. The major benefit behind arranging these leagues is to help the local talent learn from these experienced International Players and same is expected from Euro T20 Slam to help the young uncapped or capped talent from Ireland, Scotland, and Netherland to learn from their experiences and replicate the performances in the International Circuit when given a chance. With the ICC T20I World Cup happening next year this league will boost the confidence and talent of young players from all 3 participating countries. Are you excited for the league to start? let us know in the coment section 😀