West Indies Cricket Board has launched another league with the help of foreign and local sponsors which is going to promote the local talent of the Caribbean. The vincy premier league teams will feature 13 players each in the six teams who will play nine days of highly entertaining and exciting cricket. It is another T10 league featuring Vincy premier league 2020 which cricket fans will enjoy to the core like other short tournaments.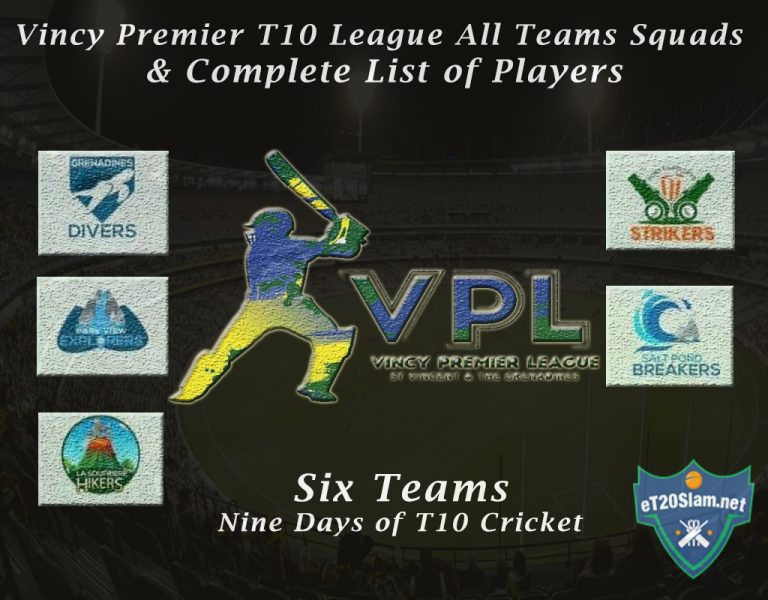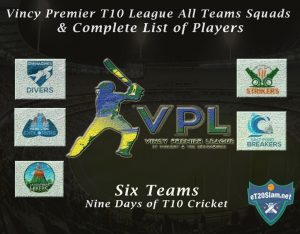 The draft event had finalized the players' list of Vincy premier t10 league squad and we can see some highly exciting and talented young prospects being picked in the league who are going to have the biggest cricket stage they could ever dream of to showcase their skills.
Vincy Premier T10 League Players List
In a pandemic situation, the vincy premier t10 league is going to have its first season and hopefully many more to come just like Abu Dhabi T10 league. All franchises have announced and picked one Marquee international star in the vincy premier t10 league players list. Some well known International stars are Kesrick Williams, Sunil Ambris, and Obed McCoy. The complete vincy premier t10 league team squad is as follows.
Salt Pond Breakers – Sunil Ambris (Marquee), Delorn Johnson, Javid Harry, Urnel Thomas, Ryan John, Tijourn Pope, Ricavo Williams, Seon Sween, Leshawn Lewis, Jeremy Layne, Romano Pierre, Davian Barnum, Kensley Joseph
La Soufriere Hikers – Desron Maloney (Marquee), Dillon Douglas, Salvan Browne, Othneil Lewis, Kavem Hodge, Andre Hunte, Benniton Stapleton, Nickie Antoine, Anson Latchman, Rayon Williams, Jeremy Haywood, Tilron Harry, Kemron Strough
Grenadines Divers – Obed McCoy (Marquee), Asif Hooper, Shem Browne, Razine Browne, Tyrone Theophile, Kadir Nedd, Geron Wyllie, Braxie Browne, Romario Grant, Wayne Harper, Kevin Abraham, Leon Quashie, Jordan Samuel
Botanical Garden Rangers – Kenneth Dember (Marquee), Hyron Shallow, Atticus Browne, Kimali Williams, Keron Cottoy, Donwell Hector, Donald Delpleche, Emmanuel Stewart, Zemron Providence, Romario Bibby, Solomon Bascombe, Ronique Laborde, Winston Samuel
Fort Charlotte Strikers – Gidron Pope (Marquee), Ray Jordan, Rasheed Fredericks, Sealroy Williams, Johnson Charles, Rickford Walker, Kirton Lavia, Alex Samuel, Kimson Dalzell, Nigel Small, Chelson Stowe, Andrew Thomas, Sylvan Spencer
Dark View Explorers – Lindon James (Marquee), Shammon Hooper, Deron Greaves, Miles Bascombe, Dean Browne, Jaheil Walters, Wesrick Strough, Drumo Toney, O'J Matthews, Jade Matthews, Denson Hoyte, Alick Athanaze
All the above-mentioned players will play at the Arnos Vale Sporting Complex in St Vincent during the nine days of competitive matches in the Vincy Premier League. We believe after looking at the vincy premier t10 league all team squad that this tournament might be able to provide 2 to 3 young prospects to Cricket West Indies who can feature in the ICC World T20 going to be played in Australia this year and in India next year. 
There was a short draft ceremony a few weeks ago where Vincy premier league all team squad were picked by the organizers and sponsors of the event and due to pandemic, Cricket West Indies and organizers in St Vincent will be taking all the precautions to safeguard players health and safety during these pandemic times.
Vincy Premier T10 League Teams
The six participating Vincy premier league teams are picked from all over the Caribbean and it is going to be the second most-watched and popular league based out of Caribbean after CPL T20. The team names are Grenadines Divers, Dark View Explorers, Fort Charlotte Strikers, Botanic Gardens Rangers, Salt Pond Breakers & La Soufriere Hikers. 
Many cricket fans in the Caribbean have so far given a very positive response on the team names and the players drafted for the event. The franchises are excited to be part of this historic T10 event from the Caribbean and everyone is hopeful that it will achieve the same level of success as CPL T20. 
Vincy Premier League Players List Download
The editors of ET20 Slam have created a nice file that contains detailed information about each and every player picked for the vincy premier t10 league. You can download the vincy premier t10 league squad download file so you analyze which franchise has the strongest squad on paper for the inaugural season of Vincy premier t10 league. 
The organizers of the event have not yet announced the coaches of the franchises but due to pandemic, it's expected that all the coaches hired will be local and no foreign coach will participate due to pandemic. We will be sure to make updates to the vincy premier t10 league players list download file if any franchise announces some replacements for the drafted players due to injury or disciplinary reasons.