The world has been on a lock downstage for the past 4 months or so and many of the sporting events had to be canceled during the stage which was very disappointing for many cricket passionate fans all around the globe. Luckily, things have now started to be on track and Vincy Premier T10 League is coming to entertain billions of cricket fans all around the world in this month of May 2020. The T10 Vincy Premier League is going to be played at Arnos Vale Sporting Complex in St Vincent, Caribbean.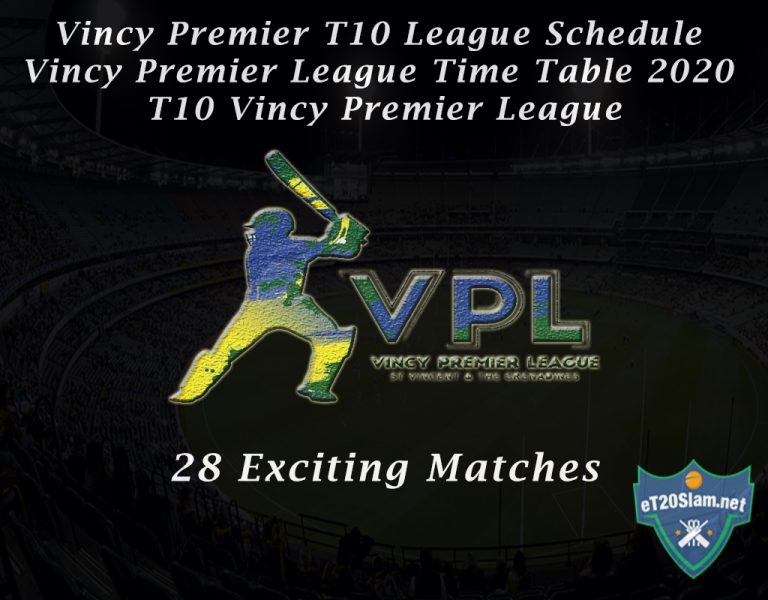 Earlier, this month WICB also announced that the CPL T20 2020 will also go as planned as scheduled which is very positive news in the pandemic situation the whole world is currently in. It will be the inaugural edition of Vincy premier league t10 which will entertain millions of fans who are stuck in their houses for months. 
Vincy Premier T10 League Schedule 2020
The first edition of Vincy premier league schedule is set to begin from May, 22 and the tournament will be played for nine days where each team there competitive Vincy premier league t10 will be played against six t10 Vincy premier league teams. The complete vincy premier league 2020 schedule is as follows.
T10 Cricket has been gaining huge popularity in recent years and this format is very feasible to be included in the Olympics due to the short nature of the event. The most popular event is Abu Dhabi T10 which is played every year in UAE and now Vincy Premier T10 League is looking all set to provide great competition to the Abu Dhabi T10 League. As per official Vincy premier league, t10 fixtures Grenadines Divers vs Salt Pond Breakers is the first match which will provide huge relief to the cricket fans worldwide who were craving for some live cricket to take place in this pandemic situation.
Vincy Premier League Teams
In the first edition of Vincy premier league 2020, there are six teams who are participating in the event, and each team representing a city or Island of the Caribbean. The vincy premier league teams are as follows.
Grenadines Divers

Dark View Explorers

Fort Charlotte Strikers

Botanic Gardens Rangers

Salt Pond Breakers

La Soufriere Hikers
The vincy premier t10 league squad is expected to provide the same high level of entertainment to the cricket fans all around the world like CPL T20 which is considered a top T20 competition all around the world due to great talented cricketers from the Caribbean and the top-notch production of the league.
Vincy Premier League Schedule Download
We understand that cricket fans from all around the world will want to follow this league very closely and enjoy home quarantine with their families by following this Vincy Premier T10 League event. We have created a vincy premier t10 league schedule download file that cricket fans can download so you can don't miss out on any of the live cricket action all the way from the Caribbean.