The anticipation of Vivo IPL 2021 is getting big and bigger with each day passing out. The BCCI has finally made a big decision and decided that the whole Vivo IPL 2021 will be played in India on six different venues. There will be no home ground and each team will play at neutral venues to provide all the teams an equal chance to enjoy the home advantage.
The complete Vivo IPL 2021 Schedule Images are as follows.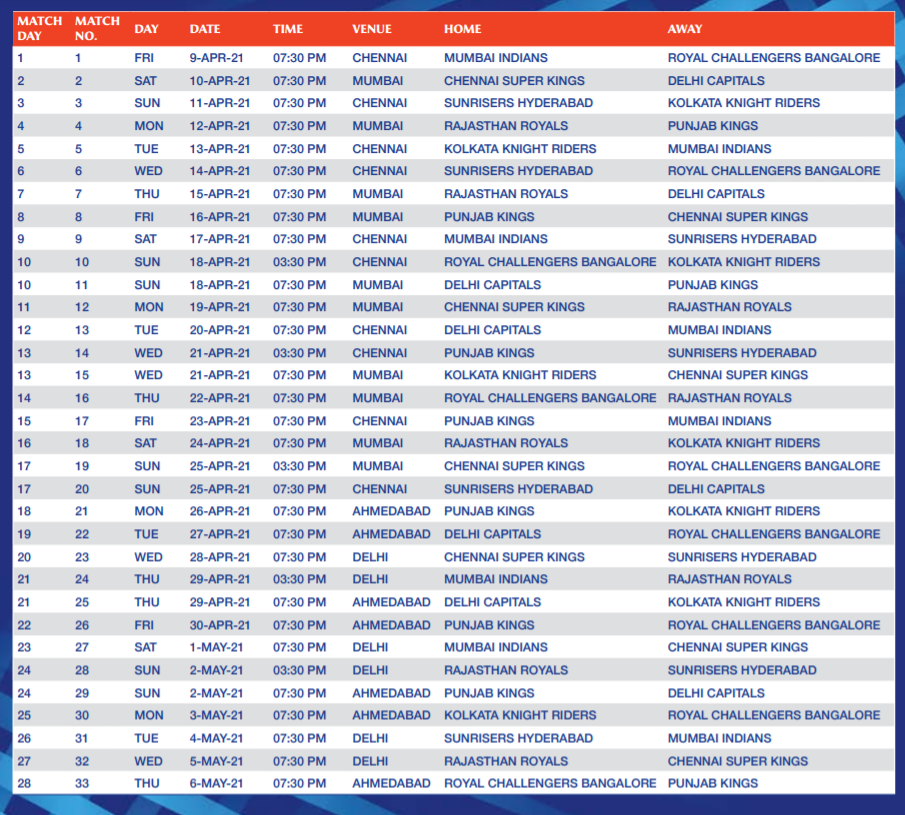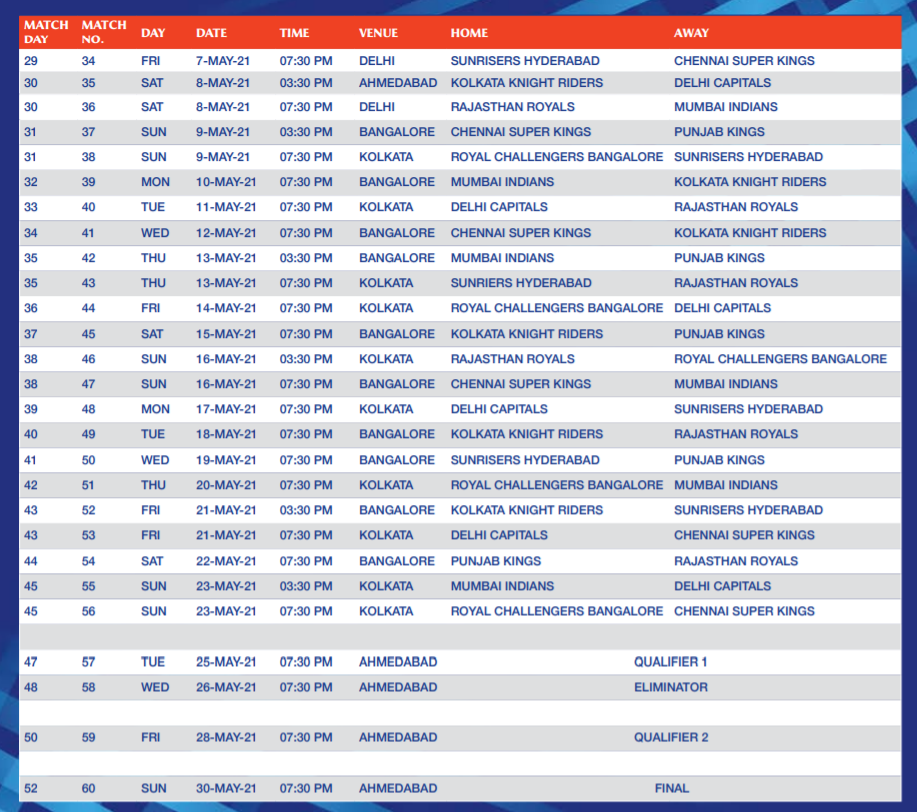 As we can see the IPL 2021 tournament is going to be started on the 9th of April, 2021 which is great news for more than a billion passionate cricket fans living in India. The tournament will be played under strict Covid protocols and all the franchises will need to remain in the bubble for 2 and a half months. The 14th edition of Vivo IPL is again to be a great highly competitive tournament with many exciting memories to look for. BCCI is currently working with the state governments to decide how many fans will be allowed to come to the stadiums and support their favorite franchises.
Mumbai Indians
MI IPL 2021 Schedule Image shows that they are going to start their journey against RCB who for this year had became even more explosive on paper with the addition of Glenn Maxwell. Mumbai Indians has always been a very fascinating franchise that always puts great performances in every edition of the Indian Premier League.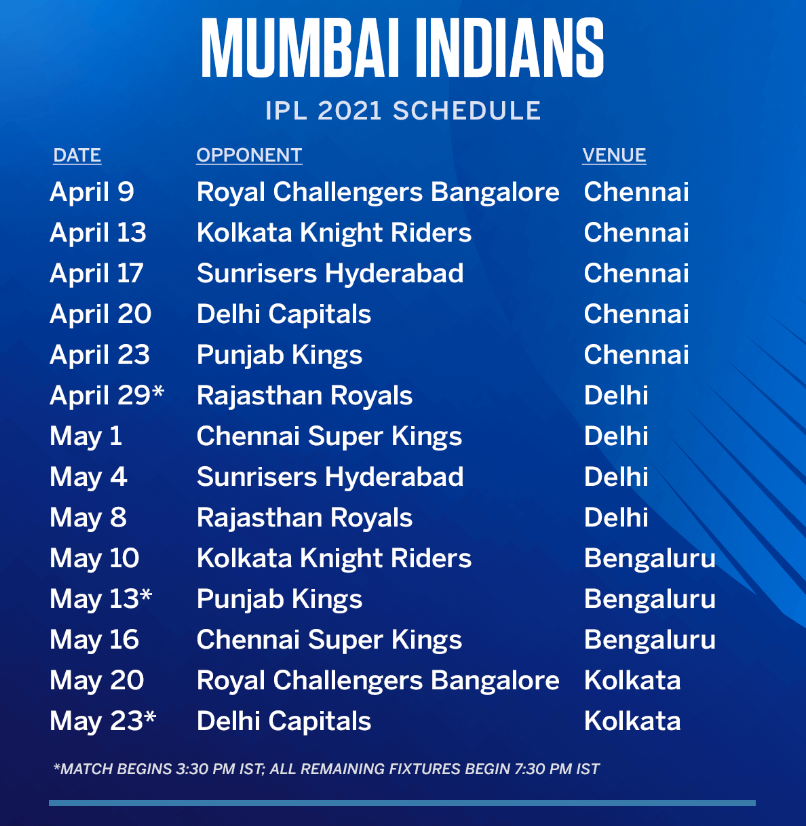 Chennai Super Kings
CSK is a franchise that has done relatively well in the Indian Premier League but the last edition of CSK was a shocker and they came under severe criticism from many cricket pundets. MS Dhoni might play his last IPL this season so he will certainly look to end his career on a high. Chennai this year is playing against Delhi in its first game and they will certainly look to start their IPL journey with a WIN.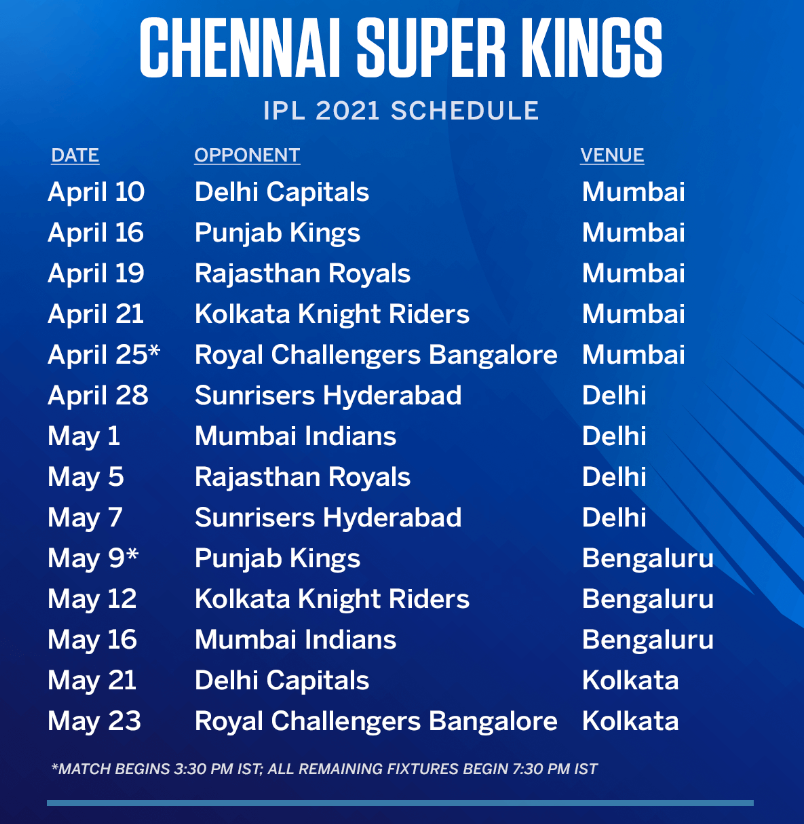 Royal Challengers Bangalore
RCB is a franchise that has always enjoyed the love and hate relationship with the fans. The majority of the Indian fans love this franchise because KING Kohli and Mr. 360 Ab Devilliers plays for RCB and this year with a hefty price tag in IPL Auctions for Glenn Maxwell, RCB is again promising its fans to put up a great show and finally win an edition of Indian Premier League. Below is the RCB Match Schedule Image for season 14 of the Indian Premier League.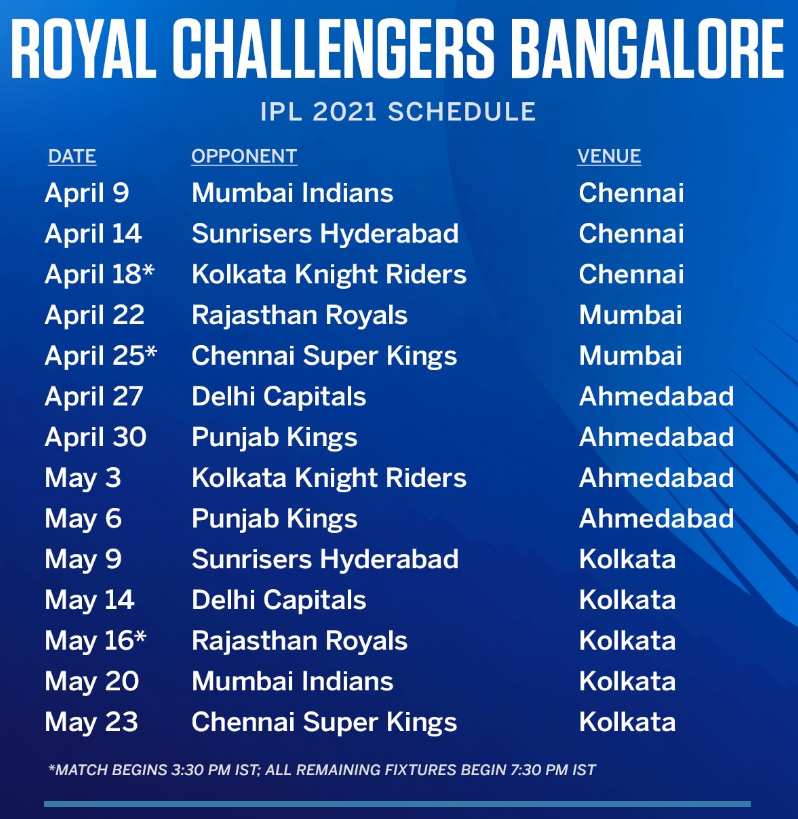 Delhi Capitals
Delhi Capitals known as DC is a franchise that represents the heart of India which is Delhi and it is also the capital of the country which means every year Delhi reveals many great exciting young talent at the BIG IPL Stage. Fans will be hoping that team Delhi continuous its good form and lead into the playoffs again. The DC IPL Schedule Image reveals they will be playing against CSK in the first game of the 14th edition of the tournament.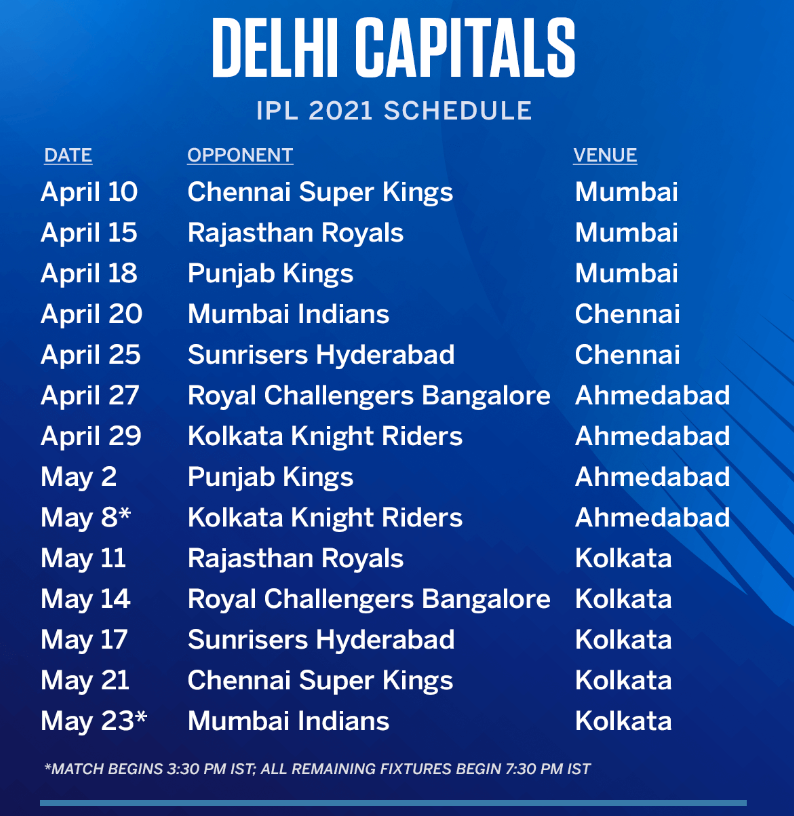 Rajasthan Royals
Royals is a franchise that surprised everyone by winning the inaugural edition of the Indian Premier League but since then there has been a huge decline in the form of the franchise. Team Rajasthan needs an active leader who can inspire the franchise through good leadership along with the utilization of bowling resources available in an efficient manner. Have a look at the RR IPL 2021 Schedule Image below.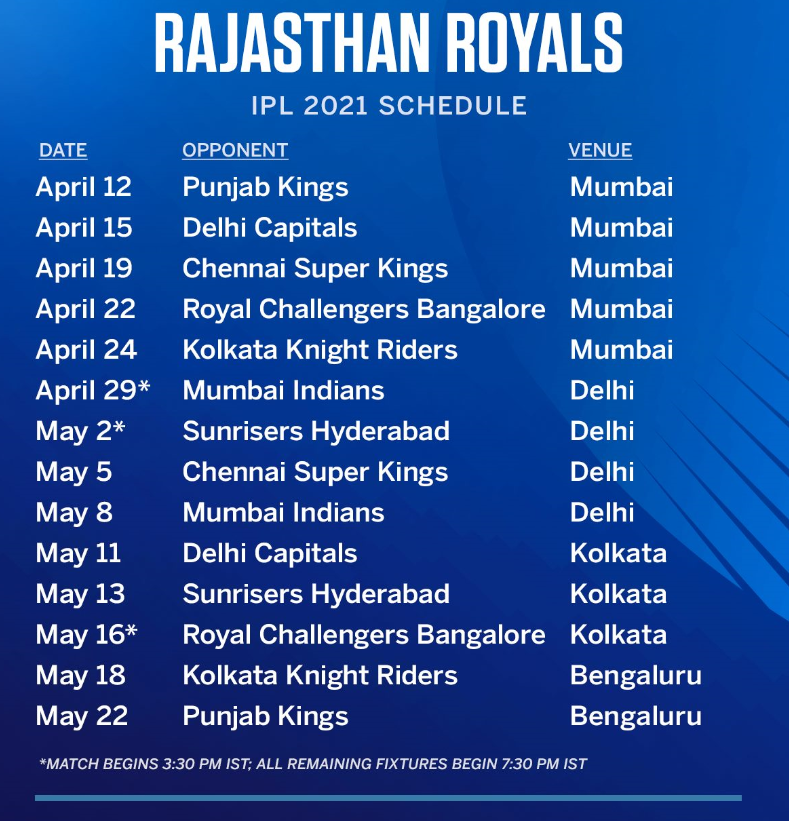 Punjab Kings
The franchise Punjab Kings was formerly known as Kings XI Punjab has had a mixed set of IPL seasons. They have a great leader in the shape of KL Rahul however, they are still lacking behind in some parts of the game to reach the Big Final and clinch up the trophy. Punjab Kings (PK) IPL 2021 Schedule Image is as follows.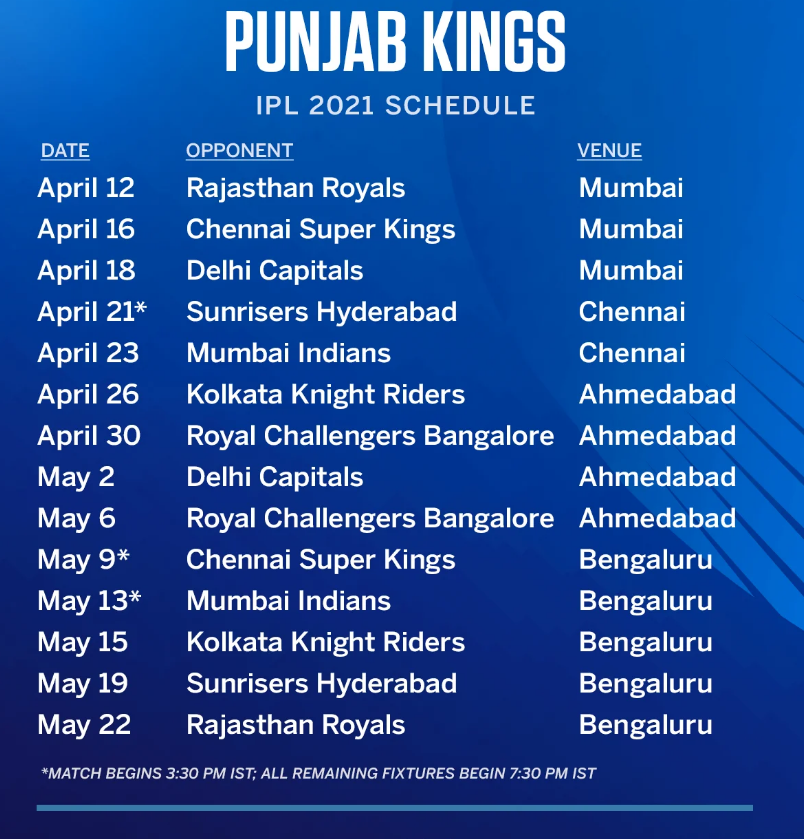 Kolkata Night Riders 
If we say, the KKR has always enjoyed the biggest fan support we might not be wrong because the franchise is owned by Bollywood King Shahrukh Khan and Queen Juwi Chawla. KKR has always had this aggressive mindset in IPL which has provided them good rewards over the years however, ever since Gautham Gambir has left cricket they are looking for a leader who can inspire the team and win games on his own. Let's have a look at the KKR IPL 2021 Schedule Image below.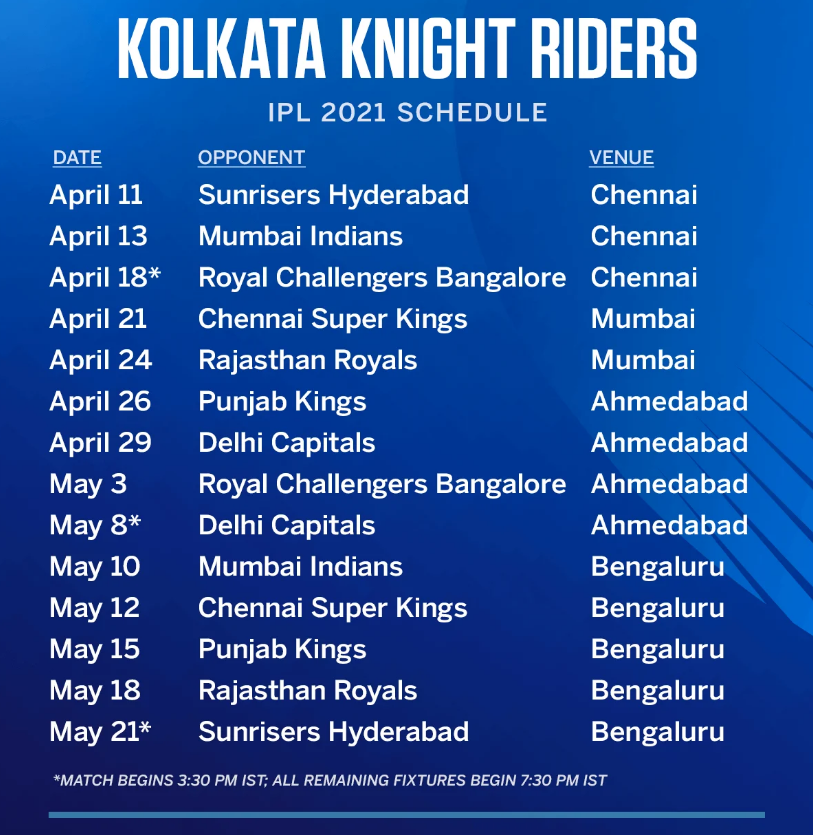 Sunrisers Hyderabad
Team SRH has had a different approach when it comes to picking the leader. They have always preferred to have a foreign captain who can lead the side and it has worked really well for them in past seasons of IPL. The calm and composed Kane Williamson along with the ever aggressive David Warner are the key players in the lineup to inspire the young guns and to push their team to win an IPL title. As per the SRH IPL 2021 Schedule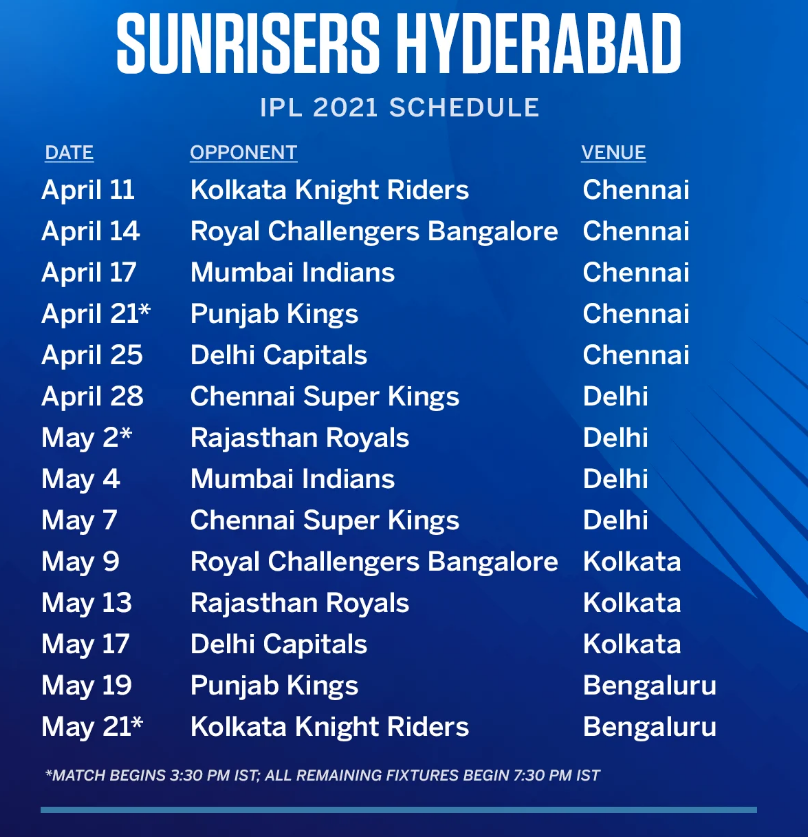 Vivo IPL 2021 All Teams Schedule Download
Download All Vivo IPL 2021 Schedule Images on all types of smart devices you own and share them with your friends and family. The IPL 2021 Schedule PDF file contains Full HD Images of every team schedule for the upcoming edition of the Indian Premier League.