Netherlands cricket fans who want to see the Amsterdam Knights fight and win their way to victory in the Euro T20 Slam 2020 need to make sure that they are prepared with all of the information that they need to follow the exciting action. From learning about the Amsterdam knights squad 2020 to taking time to download team schedule, cricket fans can enjoy all of the action this coming fall. Knowing when the Amsterdam Knights are going to be playing as well as who they are going to be competing against will ensure that any cricket fan has all of the details that they need to fully enjoy this competition.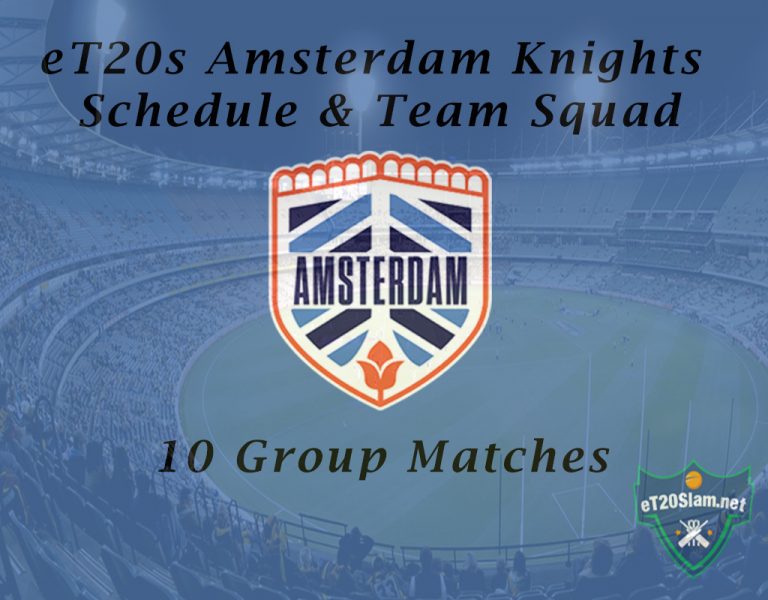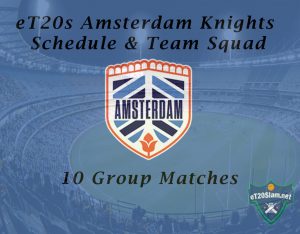 Cricket Netherlands has been an ICC member for a long time and this tournament and franchise can bring lots of good for the Dutch cricket with ICC T20 Worldcup scheduled to take place this year in 2020.
Amsterdam Knights Matches Schedule 2020
The Amsterdam Knights team schedule has already been set, which is great for anyone who may want to take time off of work to see the team in action. They are lucky enough to play in the very first game of this amazing event. Held in the Netherlands at the VRA Cricket Academy in Amsterdam, the Amsterdam Knights will face off against the Rotterdam Rhinos at 11:30 on 30 August, 2020. This first game is very exciting, as it is sure to set the stage for the rest of the events.
Following that match, they will play three more times in Amsterdam. Their next match is on 31 August at 15:30 against the Belfast Titans. They then compete against the Edinburgh Rocks on 3 September at 15:30 and close out the Amsterdam matches against the Rotterdam Rhinos. This match is on 5 September at 15:30 hours and is the last match in the Netherlands.
They only have two matches at The Grange Club in Edinburgh. Their first is on 13 September against the Dublin Chiefs at 11:30. Their second is against the Belfast Titans at 11:30 on 8 September. After this second match, the Amsterdam Knights have a nice break until they compete again in Ireland.
Dublin is the last leg of this competition, and the Amsterdam Knights have their first match at The Malahide Cricket Club on 14 September 2019 at 11:30. This match is against the Edinburgh Rocks. They then have three more matches before the semifinals. They play the Glasgow Giants at 15:30 on 15 September, the Dublin Chiefs at 15:30 on 17 September, and the Glasgow Giants again at 15:30 on 18 September.
After these matches, the Amsterdam Knights are finished playing unless they are able to make it to the semifinals. These 2 matches are held on 21 September at 11:30 and 15:30 hours. Fans will be hoping that their team is able to compete in the Grand Final on 22 September at 15:30 and ultimately be crowned the cricket champions of the Euro T20 Slam 2020.
The Schedule for all matches of Amsterdam Knights are as follows:
Like other teams, Amsterdam Knights will also be playing 10 group matches and fighting in the all-important semi-final for a place. We saw in PSL that 6 tournament teams can often be very competitive and that each team will look for a place in the top 2 positions.
Amsterdam Knights Team Squad 2020
Not all team franchise details have been released at this time, as teams haven't finished choosing all of their players. Each time will be able to choose nine local players, which means that cricket fans will likely see some of their favorites playing in this tournament. In addition to the nine familiar players, up to seven international players can be added, rounding out the team and resulting in a group of cricket players who perfectly complement each other.
Planning ahead is the best way to make sure that you are able to enjoy as many matches during this tournament as possible. By checking the schedule and noting the Amsterdam Knights games on your calendar, you can make sure that you keep up with your favorite Amsterdam knights players and are available to help cheer them on to victory, no matter whether you make it to a live game or not.
The squad will be announced soon for Amsterdam Knights and we will update the post as soon as the official announcement is made. It should be noted that six foreign players who have joined hands with Euro T20 Slam have already been announced and will be excited to see which foreign player will serve Amsterdam Kings in the 1st ever continent-based league supported by three cricket boards.
Last year the official draft ceremony took place in London and we now know all the team members of Amsterdam Knights who will be taking place in the first edition of Euro T20 Slam.  Take a look at the complete squad of Amsterdam Knights.
Amsterdam Knights Squad 2020
It expected that Shane Watson will be named Amsterdam knights captain 2020 for the first edition of the league which can prove to be the great decision because of the vast T20 league experience Watson possess.
Netherland Players:
Tobias Visee, Roelof van der Merwe, Brandon Glover, Ben N Cooper, Paul van Meekeren, Philippe Boissevain, Wesley Barresi, Sikander Zulfiqar, Tonny Staal.
International Players:
Shane Watson, Imran Tahir, Ben Cutting, Ahmad Shahzad, Hassan Ali, Sikandar butt, Alzarri Joseph.
Supplementary Players:
Varun Chopra, Saad Bin Zafar